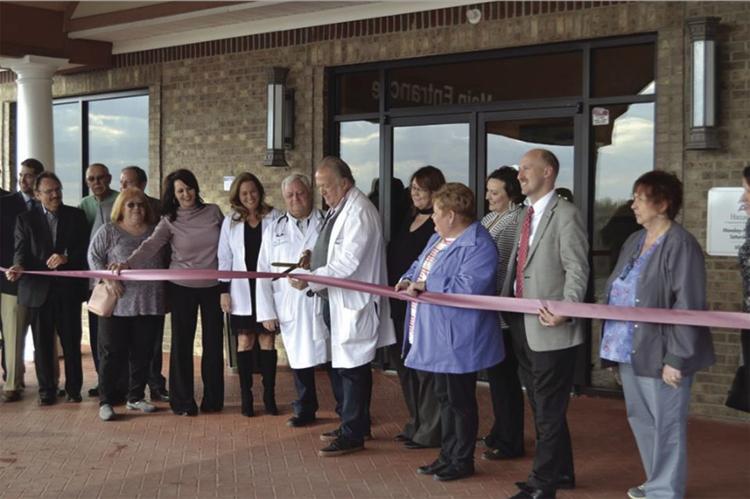 On Tuesday, April 10, Appalachian Regional Healthcare held a ribbon-cutting ceremony for the opening of a new clinic at the previous location of Ace Clinique of Medicine, which was previously shut down because of legal problems.
The ARH clinic has been officially open for about three weeks, but the company wanted to do something to celebrate with the community and make them aware of the new location. To commemorate the opening of the new clinic, ARH set up a table of food and refreshments for guests to enjoy and then came together to cut a ribbon in honor of the new clinic.
While it is in the same location of the old Ace Clinique, it is not the same organization and there are many changes that have taken place, according to Dr. Mitchell Wicker, Jr.
"I think the completeness of it is more of the service that wasn't provided before," Wicker said. "The previous occupant was primarily focused on adult medicine and had an emphasis on pain control, we don't just go there, we treat everything."
Another service that the clinic offers as a means to be more connected with the community and better care for patients, is a housecall program.
"We are not simply based in the clinic here, nurse practitioners go to patient's houses and care for them,î Wicker, who has been practicing medicine for 37 years, said.
The clinic offers services for infants through adulthood and the company is still expanding certain areas of care. The clinic does not offer surgery, but they have a presence in the ARH hospital and they do referrals to surgeons there.
CEO of ARH, Dan Stone, agreed that the clinic offers more complete service than the previous company.
"Certainly, we have expanded some of our diagnostic services, particularly in radiology and lab," Stone said.
The company is proud to have another care facility available in town and to ensure more complete patient care through connectedness with the community, he said.
"We are excited to have this great space and hours of operation to be able to serve the community,î Stone said. ìIt is a really attractive place for patients to come and is convenient, particularly for employees of the hospital."