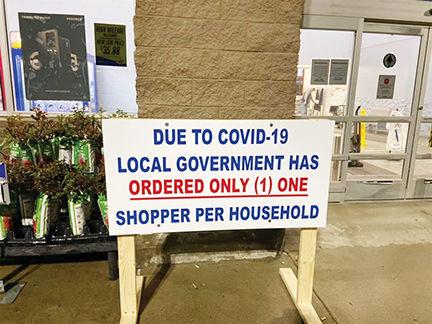 On Tuesday, March 31, a meeting was held at Hazard City Hall where local leaders announced that a positive case of COVID-19 has been confirmed in Perry County. After the meeting, an executive order was signed to protect the public and limit the number of people in stores.
"Today (March 31) has been a very difficult day for the Commonwealth of Kentucky," said Kentucky River District Health Department (KRDHD) Public Health Director Scott Lockard.
Just on that day he said, Kentucky confirmed 114 new cases and seven deaths that day.
"It's been one of the worst days in our state for loss of life and the largest number of new cases in one day," said Lockard.
The unfortunate news continued as Lockard confirmed that Perry County now had a positive case of the novel coronavirus COVID-19.
"Just as the governor was wrapping up his press conference this evening, the Kentucky River District Health Department that serves Knott, Lee, Leslie, Letcher, Owsley, Perry and Wolfe counties received notification that we now have a positive case in our service area. A Perry County resident, a 79-year-old male, has been diagnosed positive with COVID-19," said Lockard. "It's a serious condition this person in now facing, and we hope for a positive outcome."
The community, Lockard said, is sending prayers and positive thoughts towards the individual. Due to HIPAA concerns, Lockard said, no further information about the patient will be released at this time.
Lockard said the city, county and healthcare officials in the region have been expecting this to happen at some point, and have been trying to implement preventative measures all of March.
"We knew that this was going to happen. We knew that we'd have a positive here in the Kentucky River District," said Lockard. "We're practicing many interventions to help slow the spread of COVID-19."
Some of the interventions, he said, are social distancing, avoiding crowds, washing hands frequently and staying home when sick.
"This should be a wake-up call for anyone who thought maybe this isn't so serious. This should be a wake-up call for all of us, it is here. We need to take precautions, we need to practice social distancing, we need to be healthy at home," said Lockard.
Perry County Judge Executive Scott Alexander agreed.
"We knew this day was coming," Alexander said, adding that expectation is why officials started pushing interventions three weeks ago to try and prevent the spread of the virus. "We urge you to stay home and stay healthy.
"This is the most critical week that we'll face with this outbreak," he said. "Now that we know we have a positive case, it's critical that you adhere to these recommendations that we've been giving these past three weeks. It's critical this week, what our community does."
Local clinics, said Alexander, have expanded testing within the county in an effort to further help during the pandemic. The Primary Care Centers of Eastern Kentucky can now test approximately 150-200 people per day, he said.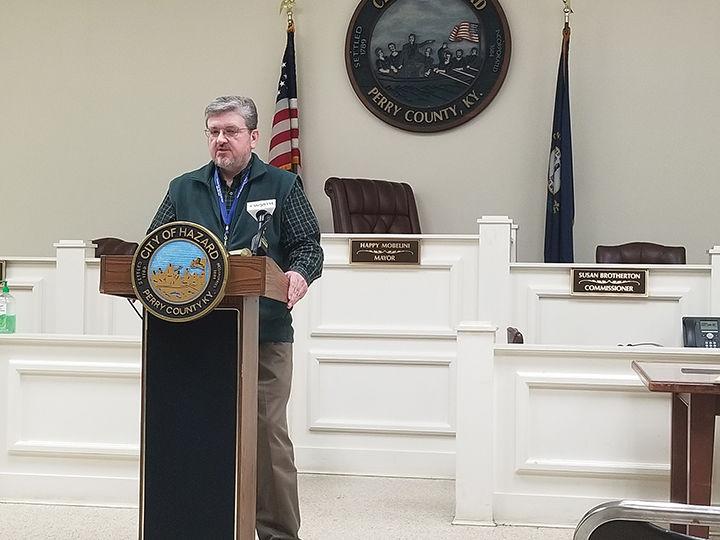 This week, the center launched the organization's COVID-19 testing drive-through service in Hazard. Those being tested include any essential employee (delivery drivers, food servers, retail employees, healthcare employees) who has had possible exposure to COVID-19 and/or has fever, cough or shortness of breath; any individual who provides care to an individual who has a chronic health condition and has had possible exposure in the community and fever, cough or shortness of breath; and anyone 60 years of age and over with possible exposure or with fever, cough, or shortness of breath.
For more information about the Primary Care Center's COVID-19 testing, call, (606) 439-1300.
"I think now more than ever, you'll think it's more serious because it it here," said Hazard Mayor Donald "Happy" Mobelini. Both the city and the county, Mobelini said, will be taking more measures to protect the public, including the signing of an executive order that limits the number of people within stores.
"We are going to sign an executive order in the county and the city mandating that you have only one person per family go into the store, and that will start today (March 31)," said Mobelini.
Community members, he said, will need to make arrangements to follow the one person, one cart rule. Mobelini encouraged the community to utilize curbside pick up options for grocery stores and restaurants that offer the service, and to order out when possible.
"It's a total different way of living," said Mobelini. "We will get through this."
After the meeting, Mobelini and Alexander both signed executive orders to limit the number of individuals in public stores at one time. According to the orders, only one adult person per household is permitted to go in public places at one time. Retail life-sustaining businesses that have remained open shall develop and enforce policies to ensure that adequate social distancing is being maintained, the orders require.