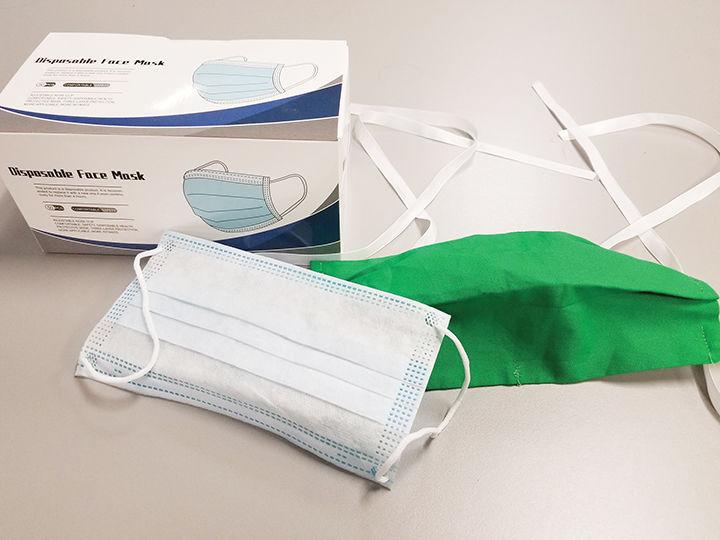 As this week started the reopening of area businesses and organizations, officials with the Kentucky River District Health Department are encouraging the "Healthy at Work" phased approach to reopen Kentucky's economy. Effective Monday, May 11, it has been recommended that peole wear masks when in public.
"We've been getting a lot of questions about wearing masks and what this entails," said KRDHD Public Health Director Scott Lockard. "One of the reasons at the beginning of the COVID-19 outbreak the recommendation to not wear masks was because there was a shortage of masks."
At the time, he said, the thought was that masks protected the wearers, so they were being reserved for front line workers, not the general public. Since then, he said, more information has been gathered and the recommendation has been changed.
"The CDC has changed its recommendation, because COVID-19 has become so widespread now that this thought process has changed," said Lockard.
According to Lockard, wearing masks is helpful in preventing a spike in COVID-19 cases, because it will help contain droplets when people speak, cough or sneeze, and will prevent spreading the virus to others while in public.
"If everybody is wearing a mask, it will prevent us from spreading the virus to others as much, if not more so, than us contracting the virus," said Lockard. The masks, he said, are intended to protect other people, because some patients have tested positive for COVID-19 and not shown any symptoms.
Although the wearing of masks is highly recommended, there will be no punishment if people don't comply, Lockard said, explaining that no one will be arrested or fined for not wearing a mask. However, he said, businesses have the right to refuse service to anyone not complying with the recommendation.
"A business can refuse to serve someone," said Lockard. "It's about a common courtesy for friends and neighbors."
He said positive peer pressure could be used to get voluntary compliance.
There are many types of masks that can be utilized, Lockard said. Some of the most common masks to make or obtain, he said, are simple ear loop masks and cloth masks, which are suitable for the general public to wear. Surgical masks and N95 respirator masks, said Lockard, are other types of masks that should be reserved for health care providers and others in the medical field. Children under two years of age should not wear masks. Resources to find and/or make masks, said Lockard, are available at the Perry County Extension Office, the KRDHD Facebook page and the website kyCOVID19.ky.gov.
Lockard said multiple businesses, individuals and groups have donated masks to the KRDHD to provide to healthcare workers. "We have had so many businesses that have donated masks," said Lockard, stating that churches, schools, businesses and individuals have all been contributing masks. KRDHD, he said, has been giving the masks to different clinics and organizations.
The outpouring of support, said Lockard, has been wonderful and KRDHD is thankful for the donations.
"I think when we're in a crisis like this, sometimes the attention gets focused on those people that are maybe trashing others on Facebook or doing some things that they really shouldn't do, it does bring out some bad behavior in some individuals," Lockard said. "However, the thing I love about being here in the mountains is that it brings out far more good behavior in people. We have a lot of really good people doing a lot of really good things."