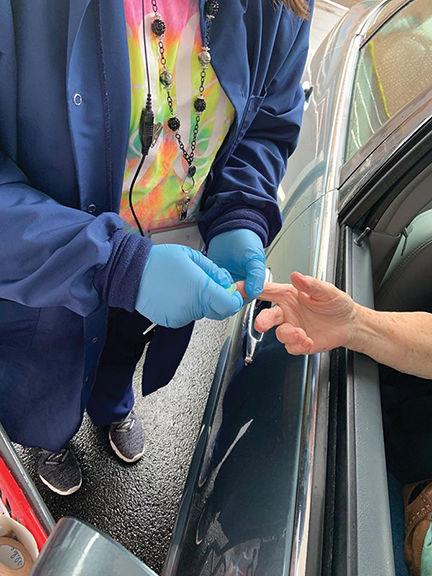 With the reopening of businesses, local healthcare providers are beginning to offer COVID-19 antibody testing and study the results.
On Friday, May 22, Primary Care Centers of Eastern Kentucky began offering the antibody tests. Since then, according to Christie Herald, a nurse practitioner at Primary Care Centers of Eastern Kentucky, many people have stopped by to determine if they have the antibodies relating to COVID-19. Just on Monday, May 25, she said, there were 36 patients who came for antibody testing.
Herald said the test is completed by a finger stick to draw blood, and the results are given within five minutes. Most insurances are covering the tests. If a patient doesn't have insurance, PCCEK will offer a sliding scale discount if applicable. Individuals who have no insurance and do not qualify for a sliding scale discount will be asked to pay $135 for the office visit and the antibody test.
Patients do not have to have an appointment, she said, but it is preferred and the testing does require a visit for educational purposes.
"There is a lot of education that goes into the test," said Herald. "When you get that test done, you need to know what those results mean," she said.
"IgM is the antibodies you develop first when your body contracts the virus. That's your front line of defense," said Herald. "The body makes them pretty quick, but they don't stay around long. IgG is kind of the backup line."
"We have had several people test positive for the IgM, and if the IgM is positive, we then ask them to do a nasal swab for the COVID-19 test as a confirmation, because this is a screening test and it is not considered diagnostic," said Herald. "If they test positive for IgM, we do ask them to self quarantine until the swab comes back."
Herald said that although there is still much to learn about the testing, it is reliable and beneficial.
"This antibody test is all new," she said. "None of them have received full FDA approval. The one that we have does have EUA, which is emergency approval from the FDA." The benefit to having it done, first of all, is the person would know if they may have had exposure and if they have antibodies. The other thing, by doing so many, it lets us know what the prevalence is in our community. If we start to get a lot of people back with IgG, it indicates that they have had it in maybe January or February."
This knowledge, she said, can be used to make people feel safer when going out, because if they have already had the virus. Even if they don't know that they can't get it again, she said, they do at least know they will have some kind of help to not be as sick as before, she said.
"If we start to see a large number of those antibodies, it makes us feel a little bit safer about opening back up," she said.
The Hazard Family Medical Clinic has been offering the antibody testing since April 24, and since then, said clinic representatives, have tested many people.
"We've performed 67 of the IgG antibody tests," said Jonathan Helton, FNP-BC, APRN, owner of the Hazard Family Medical Clinic. All of the tests, he said, have been negative. "This test specifically assesses for the COVID-19 IgG antibody. The IgG antibody is usually the first antibody to be present after a COVID-19 infection. This antibody can be detected as early as 10-14 days after an infection and remains detectable for months to years following infection."
The following preliminary conclusions, said Helton, can be made about these results: Although it is very unlikely, false negative tests are possible; the negative results help to validate that the test isn't affected by the typical family of coronaviruses most everyone comes in contact with at some time or another; and the results provide a fairly large snapshot of our locale's current exposure to COVID-19.
"A majority of the people who underwent antibody testing had reports of febrile respiratory illness during the months of January, February, March or early April," said Helton. "Many of these patients reported testing negative for influenza and strep when they were ill. So far, it appears that there has not been widespread exposure in Perry County. This may change at any time so we continue to recommend testing, social distancing and proper hand-washing."
It is important to remember that researchers have not confirmed whether a positive antibody test correlates to any type of immunity, said Helton, adding that a positive test does strongly indicate prior infection.
"As the numbers in Kentucky rise, I heavily advise using a mask or scarf when going into a crowded public space in which social distancing is not possible," said Helton. "Masks provide some protection against the virus, but the main purpose of wearing a mask is to prevent transmitting the virus unknowingly from you to someone else. The incubation period for COVID-19 is lengthy and some people may never know they have the virus. Unfortunately, the virus is highly contagious and can be spread from human to human even if you have no symptoms."
The Hazard Family Medical Clinic and Primary Care Centers of Eastern Kentucky both offer the COVID-19 tests and the COVID-19 antibody tests. Testing is available at the clinic from 10 a.m. to 6 p.m., Monday through Friday,. Testing is available at PCCEK from 8 a.m. to 9 p.m., Monday through Friday, from 8 a.m. to 8 p.m. on Saturday and from 10 a.m. to 8 p.m. on Sunday.