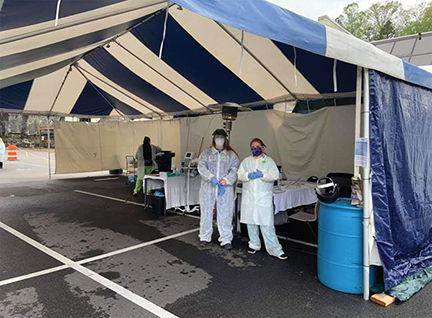 Officials at the Primary Care Centers of Eastern Kentucky announced that the organization has extended the organization's COVID-19 drive-thru testing event at the Hazard location until further notice.
The testing originally began on April 27, and was scheduled to end on May 1, however PCCEK representatives said the confirmation of cases resulting from the test led them to continue the testing indefinitely. Testing will continue throughout this week and until the PCCEK announces otherwise.
"We just feel the need is still there for the testing," said PCCEK Administrative Assistant Frances Couch.
The testing is being offered at no cost to the patients, as all private, state and federal insurances will pay for the testing, said PCCEK officials, allowing there to be no out-of-pocket expenses. Couch said PCCEK is also helping uninsured patients sign up for insurance during this time. Patients, she said, are asked to bring their insurance card and a photo ID for the test. The testing is at no cost to the patient, she said, as the lab company will bill the insurance for the test only.
"If anyone is concerned about cost because they do not have insurance, we have Qualified Insurance Assisters available to see if they qualify for Medicaid," said Couch."The income limits have been relaxed due to COVID."
PCCEK staff, she said, has been seeing a lot of people who need help signing up for insurance.
On Friday, May 1, during Gov. Andy Beshear's press conference, Beshear spoke about the importance of testing and encouraged Kentuckians to fill up all available appointments throughout the commonwealth. Many of the other drive-though testing sites, he said, have been experiencing no-shows. At many of the COVID-19 drive-through testing sites, anyone can now sign up for the free testing. A few sites still have qualifying criteria for getting tested. PCCEK is registering people on-site. For the latest information on drive-through testing, visit kyCOVID19.ky.gov.
The testing will be available at PCCEK from 8 a.m. to 6 p.m. daily, or until the center completes 150 tests per day. Results are typically received within 24 to36 hours. Symptoms of COVID-19 may include fever, a dry and persistent cough and/or shortness of breath. If anyone is displaying these symptoms, or feels they may have COVID-19, they are encouraged to participate in the drive-through testing event.