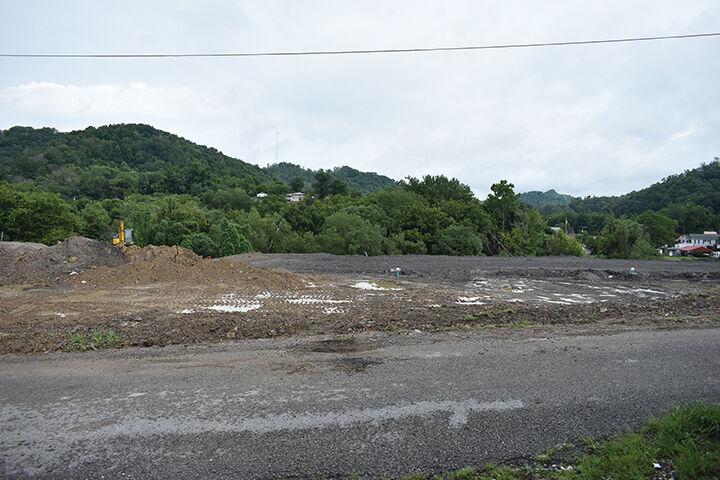 At the beginning of the year, the Allais construction project began with the demolition of the old Allais Shopping Center near the end of January. Since then, city workers have made progress on the site, and the project is now ready to enter into the second phase in August. Once completed, the project will result in 15 new houses.
Hazard City Manager Derrick Hall said the project has been ongoing for a while, ever since the city was awarded CBG funds totaling approximately $791,000 for the Allais project. The funding, he said, has been used to acquire and clear the site, and will also be used to install water lines, sewer lines, access roads and a retaining wall in the upcoming months.
"That project is well in motion. The building has been demolished, the debris has been removed and they are putting in the sewer as we speak," Hall said during the July 20 meeting of the Hazard City Commission. Hall said he expects a retaining wall to be built up this week. "Once that is in place, we'll redo Dogwood Lane and make it a little bit wider for those folks living there as well."
Hazard Mayor Donald "Happy" Mobelini said this project is unlike many others for the area.
"If you look at the city's makeup, this will be the first true subdivision that's been built in the downtown area since they built the houses out by the hospital," said Mobelini. "These are going to be 15 really nice homes."
The construction company, said Hall, should be ready to hand the project over to the Housing Development Alliance in August for them to complete their portion of the project. Once the project enters into this next phase, the HDA will build the 15 new energy efficient houses, which will all then be sold to eligible clients.
If anyone is interested in becoming a homeowner at the new houses being built in Allais, email, pam@housingdevelopmentalliance.org. Forms can also be filled out online by visiting, https://www.housingdevelopmentalliance.org/where-do-i-start.