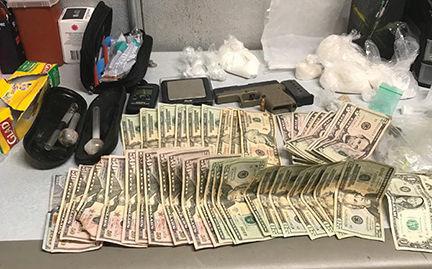 The Hazard Police Department responded to an anonymous tip that officers said led to the department's biggest drug bust in its history.
Officers responded to the tip at 1:33 p.m. on Nov. 14, at the Quality Inn hotel. Upon arrival, HPD said, officers knocked on the door and announced for the occupants of the room to answer the door.
"We just had an anonymous tip that there was some drug activity going on there, we arrived and made contact," said Lt. John Holbrook, "Upon making contact, you could hear people inside. When we looked through the windows you could see them hiding stuff."
According to Holbrook's citations, one of the people inside, William Evans, 34, of Louisville, advised the officers to "hang on," that he was putting his clothes on.
Court documents said Evans waited two to three minutes before coming to the door. When he came to the door, officers advised him they saw him hiding things through the window and Evans admitted there were some drugs in the room.
Evans, court documents said, told officers where the drugs were and gave them consent to search.
Once officers obtained consent to search the room, 494 grams of suspected methamphetamine, 118 grams of suspected cocaine and more than 7 grams of suspected heroin were seized, documents said. Also located were a baggie of marijuana, several items believed to have been used in drug trafficking and a loaded 9mm handgun.
A large amount of cash, scales, baggies and a firearm were seized as well.
Court documents said police located $1,052 on Evans' person in different denominations and court documents said three meth pipes and several needles were also located.
Evans, court documents said, told the officers that the drugs were fake and he was going to sell them to people. Evans was placed under arrest and lodged in KRRJ on several trafficking charges, as was Samantha Johnson, 30, also of Louisville. Three others were arrested at the scene on outstanding warrants, HPD said, including Carlin Estep, 28, of Lexington, Melissa Campbell, 34, of Hazard and Roy Sizemore, 27, of Rowdy.
Holbrook said the drugs seized represented a "significant amount."
"This is probably the largest drug seizure that we've ever had at the Hazard Police Department," Holbrook said. "Once you convert the grams to ounces and pounds, it was over a pound of meth. You're probably looking at about $60,000 worth of drugs."
Holbrook said that tips from the community are appreciated and necessary in stopping drug activity.
"If anyone sees abnormal activity, let us know, that's how a lot of this is stopped," said Holbrook, "A lot of people are coming into the hotels and are setting up shop in the hotels."