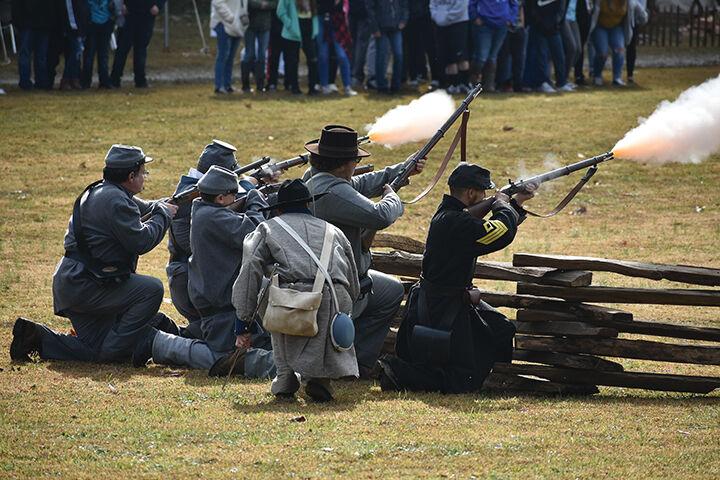 This month, the Battle of Leatherwood Reenactment Corp. announced their plans to return for the 18th annual reenactment at the original battlefield in Cornettsville. Due to the ongoing COVID-19 pandemic, some changes will be made to the event this year, said event organizers.
According to Board Chairman Kerry Crutcher, the event will be shortened this year and will have some limitations. The Living History Day, also known as the Education Day, will be canceled, said Crutcher, because schools are not allowing field trips during the pandemic. The ball is also canceled this year due to social distancing requirements, said Crutcher.
The main events for Saturday, Oct. 24, will be the Ladies' tea at noon, a battle reenactment at 2 p.m. and a re-enactors' dinner at 4 p.m. On Sunday, Oct. 25, a breakfast Sunday morning, the church service at 10 a.m. and battle reenactment at 2 p.m. The tea, dinner and church will be held in the picnic shelter.
Crutcher said the gift shop, General Store, Cornett Cabin and blacksmith shop will all be open as staffing permits. Sutlers will sell food, period merchandise, clothing, uniforms, leather, flags and more. There will be demonstrations and exhibits of early American living and tools, such as making soap and salt, blacksmith work, spinning wool or flax and making fabric on a loom. Individuals will also be present to represent the personas of General Lee, Abe Lincoln and Jefferson Davis.
"We have the best exhibition of Civil War items in the region, including a piece of Abe Lincoln's and General Lee's hair, a good selection of items from Union and Confederate prisons, bullets, canister shot and cannon balls. We have every day items from early America including pewter spoons, a master salt and individual salt cellars," said Crutcher. Precautions will be taken, he said, so the community is encouraged to come enjoy the event. "This should be a fun event, and a good chance for people to get out and have fun.
"We will practice social distancing. Our event is held in the open air, with plenty of room, so it should be relatively safe. We ask people to not handle any merchandise they do not intend to buy," said Crutcher.
Event organizers ask spectators to bring a mask, but said they will also have some available for those who lack one. Hand sanitizer will also be provided. There is no admission fee and free parking will be available.