This week, construction began on the Housing Development Alliance's (HDA) annual Community House-Raising event. During that week, hundreds of volunteers are expected to join HDA's carpenter crews as they build a new house for a local family.
So far, multiple groups of volunteers, including AEP, the PCCHS, JROTC, Perry County drug court and more have been helping with the construction of the new house.
"It is just wonderful to see different people in the community come together and work together to build a house for somebody that they probably don't even know," said Jane Rose Britton, HDA's volunteer and community coordinator. "We do it in the fall of the year and many times the people whose homes we're building are just so grateful to have the help and to have the houses put up for them. It is empowering for the people. You can rent, and you can rent and you can rent, and there is something different about being a homeowner. It changes the way you perceive yourself, as well as the way you perceive yourself as a member of the community."
Officials hope the house, being built completely new from footers to finish, will be completed in six weeks or less, with the goal of moving the family into the home by Thanksgiving, said HDA officials. After the home is completed, HDA plans to hold an Open House in which they will invite people to see the house the community built together.
The house raising is one of the HDA's fundraisers held for the "Supporting Success in Perry County" challenge. During this challenge, the Perry County Community Foundation will match all donations dollar for dollar up to $5,000, which means all donations will have twice the impact. The match deadline is Oct. 31.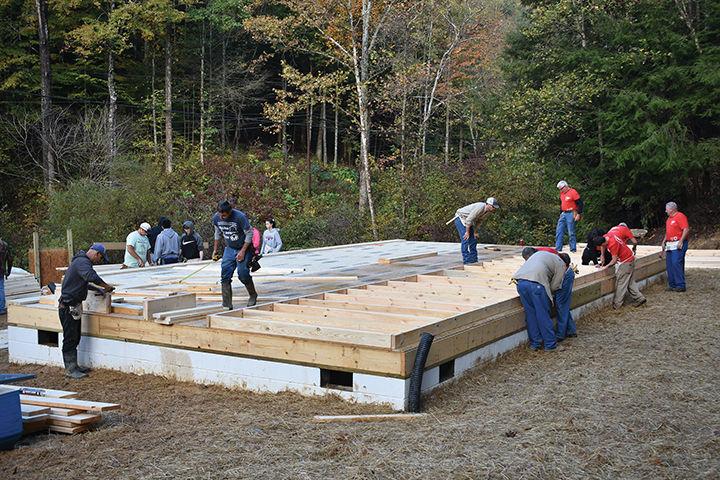 Anyone is welcome to volunteer to help out with the house-raising, and no construction experience is necessary, however, those interested in participating — whether individuals or groups — will need to sign up on the agency's website, www.hdahome.org. Official event sponsorship opportunities are also available. Donations can be made online or by regular mail to the Housing Development Alliance, P.O. Box 7284, Hazard, KY 41702. For more information about the event, please contact Jane Rose Britton at, (606) 436-0497.