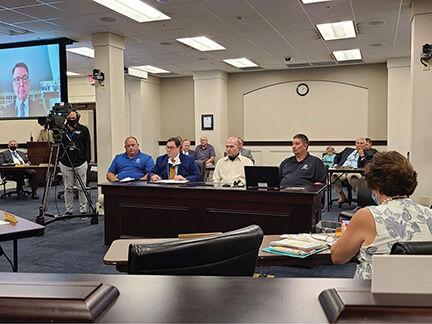 Several local officials and individuals working to establish Pike County's proposed ATV trail system appeared on July 7 before a state House Committee to voice support for a bill which would allow ATV operators limited access to designated areas of state and county roadways.
State Sen. Phillip Wheeler was joined by Pike County commissioners Jason Tackett and Ronnie Robertson, as well as Cliff Smallwood and Eric McPeek, who are all members of the Pike County ATV Trails Committee, appeared before the Interim Joint Committee on Transportation. Joining the group was local ATV enthusiast Donnie Skaggs.
Their purpose was to present and show support for proposed legislation that has failed in past legislative sessions, but, if approved, would allow ATV operators to travel between trails via designated public roadways, which some of the officials said was necessary for the establishment of trails.
Sen. Jimmy Higdon, chair of the committee, said he learned the day of the hearing that, in 1998, legislation was passed which would allow the Kentucky Department of Transportation to allow the vehicles on designated sections of road.
However, he said, new legislation being led by Wheeler would set the guidelines under which the vehicles can be operated as safely as possible on public roadways. Wheeler had attempted to get a similar measure passed during this year's session, but the measure passed the Senate and died in the House Transportation Committee.
"You've put a lot of thought into this bill," Higdon said to Wheeler. "I will say, from the last session, you've been very persistent."
Wheeler told the committee that the potential for driving tourism through ATV trails in Eastern Kentucky is promising.
"One of the impediments to really using this for economic development is that, while there are vast tracts of property that are leased and purchased by the trail authority, they would require some use of county and state roads to go from trail-to-trail," Wheeler said.
Current law, he said, allows the operation of ATVs on the roadway for no more than two tenths of a mile. However, he said, many of those properties are further apart than two tenths of a mile.
"In order to really get out-of-state riders to come in and utilize the trail system that is being visualized by the trail authorities in both Pike County and the Kentucky Mountain Regional Trail Authority, we're going to have to have road access at least on the county and state roads," Wheeler said.
Wheeler said he acknowledges that enforcement of the rules on ATV operation on roadways is not a priority of policing agencies, but that's not enough to be able to establish tourism activity.
"If you're going to convince someone to come from out-of-state, they're going to have to know that they can operate their vehicle in a safe and legal manner," he said.
Wheeler pointed to a study done regarding West Virginia's multi-county Hatfield McCoy Trail System which found an annual economic impact of nearly $40 million, with approximately 60,000 permits sold to riders annually.
"I think the most impressive fact about the data we have on the Hatfield McCoy Trail System is that 90 percent of those sales are coming from out-of-state riders," he said. "This is actually outside money coming into the local economy."
In Pike County alone, Wheeler said, there are more documented miles of trails than there are in the entire Hatfield McCoy Trail System.
"In fact, to some degree, the Hatfield McCoy Trail System is experiencing a little bit of overload," he said.
This kind of legislation, Wheeler said, would provide a bit of a relief valve for the Hatfield McCoy System, while also providing an added attraction to help boost that system.
Wheeler said there would be a great number of regulations attached to the measure, including requiring permits of riders, as well as several safety measures and requiring them to have a level of insurance.
Tackett told the committee that having the trail system is vital for the region, which is reeling from the downturn in the coal industry.
"It's a big deal for the Eastern region and it will bring back some revenue where we've lost the coal tax and coal industry," he said.
Wheeler said that establishing the trails would help the region to stand on its own.
"A lot of times it may look like we from Eastern Kentucky are coming to Frankfort with our hands out," he said. "We want to stand on our own two feet. We have some of the most beautiful areas in the whole state and we want to be able to show those not only to the rest of the commonwealth but to the rest of the United States."
Committee member Rep. Chris Harris, who worked on the trail system issue as a Pike County magistrate, voiced his support for the measure and thanked Wheeler and the others for their work on it.
"Living adjacent to West Virginia, I see the economic benefit every day of the hundreds, if not thousands, of people who visit the trail from all over," he said. "And they spend a lot of money."
Harris also added that the key to being successful as West Virginia in the venture is having a regional effort overseen by a single entity, with one person employed by the entity to just work on the trails every day.
Not all those who addressed the committee were fully on board with the legislation, such as Mark Treesh, with the Insurance Institute of Kentucky, who voiced a similar issue as others on the measure — the very nature of the ATV vehicles being discussed.
"We still have some very serious concerns about allowing these vehicles on the highway because they're not designed for highway use," Treesh said. "What we would ask is, if something like this is going to pass, to restrict them as much as possible, make them as safe as possible."
Wheeler said he prefiled a bill this week on the issue to be taken up in the 2021 legislative session.