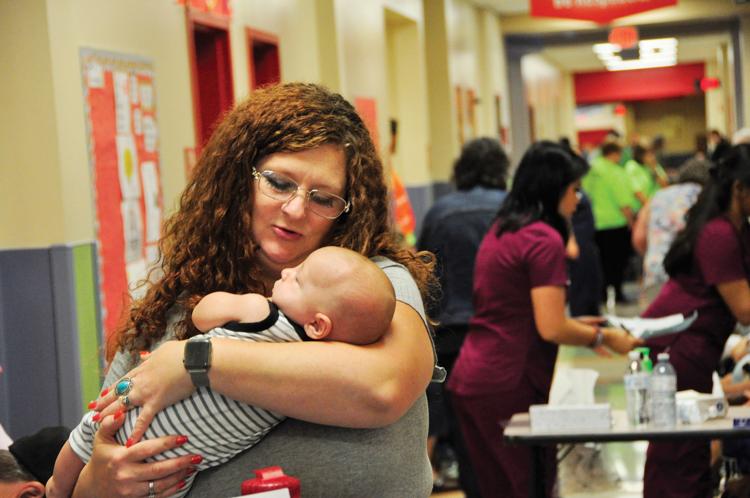 The Remote Area Medical Free Clinic made its second annual visit to Hazard last weekend to help hundreds of patients around the area, providing them with hundreds of thousands of dollars worth of free dental, vision and medical services.
The clinic opened at East Perry Elementary School last weekend, with hopeful patients lining up to receive the services beginning at about 3 a.m. on both days. Volunteers, medical professionals, clinic staff, university students and their professors provided the services, and people of all ages could receive them with no identification required.
About 400 people visited the clinic in Hazard last year, and 516 patients received care from the clinic this year, amounting to almost $223,000 worth of care, according to Kaylen Mallard, chief development officer for Remote Area Medical.
Mallard said the clinic is invited to come and provide their services to underserved areas like Hazard, saying there can be a lack of accessible and affordable dental, vision and medical services in rural areas like Hazard.
As of 2017 in Perry County, there were 1,330 people for each dentist, and there were 850 patients for each primary care physician, according to the Robert Wood Johnson Foundation.
"We believe that everyone should have access to healthcare," Mallard said. "Rural areas don't always have access to medical services."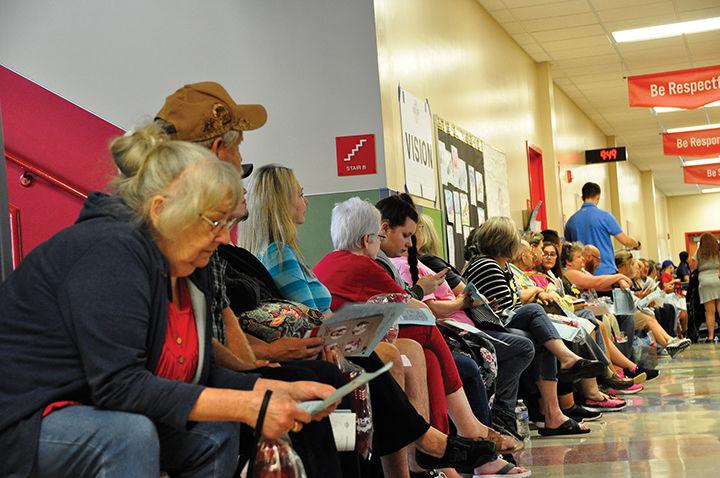 Mallard said there also can be a shortage of medical providers in places like Hazard. In 2016, Kentucky ranked 40th among the United States in the size of its primary care workforce per 100,000 people, with 2,696 practicing primary care physicians statewide, according to the University of Kentucky College of Medicine.
"We want to help as many patients as we can," Mallard said.
Knott County native Ruby Ritchie, 62, visited the clinic for the first time this year after hearing about it from a woman at her church who attended last year.
"She was well pleased," Ritchie said. "That kind of encouraged me to come out and get an evaluation."
Ritchie, who is on Medicare, came to the clinic on Saturday to get a free tooth extraction, which she said is not covered well on her insurance. She said she often can only visit the dentist once or twice a year because that is the number of visits covered by her insurance, and she is grateful she could get the services she needed at the clinic.
"It's amazing what they're doing for people in this area," Ritchie said.
Dental services at the RAM clinic were provided in the middle of the school gymnasium. After being evaluated by a dentist, patients were divided among sections of the bleachers, depending on the services they needed. When it came time, the patient walked to one of thirty chairs stationed in the gym with dental assistants ready to treat them. Provided dental services at the clinic included fillings, cleanings and extractions.
Happy native James Walker, 56, is a U.S. Army veteran who came to the clinic this weekend for the first time, though he did volunteer at the clinic last year. Walker said he hoped to have a tooth extracted because his Humana insurance will only pay for three dental procedures a year. An extraction would cost him $700.
"I can't get it done unless I take money out of my Social Security checks and take it out of the money that I need to pay for gas and groceries," Walker said. "I just can't afford it."
Provided vision care included eye exams, glaucoma testing and prescription glasses made on site. Patients were asked to choose between dental and vision services, due to time constraints. Vision services were provided in one of the classroom wings in the building, with many people seated outside the classrooms waiting patiently for their turns.
Hardburly native Susan Linz, 32, visited the clinic with her husband, Adam Linz, and her six children. She hoped to receive vision and medical services on Saturday and receive dental services on Sunday. Although Susan and her husband do not have insurance, she said she made sure to get insurance for her children.
"It's more important for my kids to have insurance than us," Susan said, referring to her and her husband, while she cradled her 3-month-old son in her arms.
Susan said she and her husband were forced to separate in order to keep their children's insurance because their combined incomes exceeded the maximum amount required for her family to receive assistance.
"So many people here try to get ahead and they end up being punished for it," Susan said.