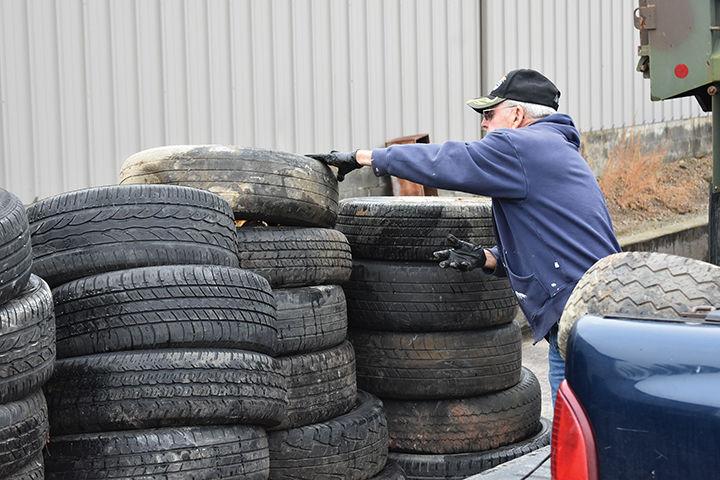 This month, the Perry County Conservation District and Hazard National Guard Armory have been working together to collect old tires in an effort to further clean up the county.
Bobby Brown, a volunteer and chairman of the Perry County Conservation District board, said the conservation district has been looking for a project to involve the Hazard National Guard Armory for a while, and recently decided that collecting old tires was a good project to partner with them on. During this month, Brown said, each guard member is supposed to go through their communities and pick up old tires, transport them to the National Guard Armory and then the Perry County Conservation District will properly dispose of the tires using a state grant.
"They seemed like they were responsive," said Brown, explaining that even previous and retired members of the national guard are helping in the effort, making the number of participating individuals more than 50.
The project, Brown said, just started this past week, and the members have already collected more than 200 tires from dumps in the community.
"There's over 200 here now and I'm waiting on a pick up load right now," said Brown. "One of these groups here, on Sam Campbell Branch, there was more than 40 piled over the hill in one spot."
"It still surprises me," said Brown, explaining that the number of dumps and tires in the county still catches him off-guard occasionally. He continued, "I found another dump of tires on Sam Campbell Branch on Thursday (March 12)."
Brown said that, on that day, he saw someone drop two tires off by the side of the road, so he stopped to pick them up. Upon stopping, Brown said he saw at least 15 more tires that had been rolled over the hill. Brown said he has a meeting with deputies this week to look at new dumps.
This tire collection project, Brown said, will last until the end of the month, and he expects to see many more tires brought in.
"We'll probably have 1,000 (by the end of the month)," said Brown, stating that he can go to different areas in the county and see tires piled up in dumps. "It's a shame."
Currently the county, Brown said, is no longer taking tires for recycling and disposal, so many people may not know what to do with the tires.
"There's no place to dispose of them other than tire dealers and they have to take them to Ashland or some other place to recycle them and they collect a fee to do that," said Brown. However, he said, the county will be hosting a similar event for the public later in May.
If anyone does know about old tires that need to be disposed, they can contact the Perry County Conservation District for assistance.