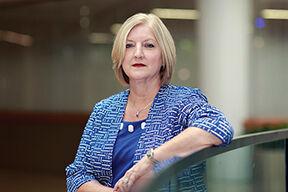 During the inaugural Community Health Champions award ceremony held virtually on Oct. 28, a local doctor was named the statewide Community Health Champion. The ceremony, sponsored by WellCare of Kentucky, was held to recognize honorees across the commonwealth.
"Community health champions are heroes, men and women who embody service to their neighbors. These are people who improve the health of their communities through leadership, volunteerism and public advocacy," said Gov. Andy Beshear, thanking each of the individuals recognized during the ceremony for the positive change they are creating in their communities.
Nine Kentucky leaders were chosen from more than 200 nominees to be honored for their volunteerism and service in public health during the ceremony. One winner was selected from each of the eight Kentucky regions, while Dr. Frances Feltner, director of the Center for Excellence in Rural Health in Hazard, was named the overall statewide winner.
Bonnie Irvin, vice president of network development, said Feltner had many qualities that made her a good choice for the statewide Community Health Champion. "She's a committed advocate, innovative leader and passionate expert who inspires others to work for improvement in rural health," said Irvin.
Feltner said she was appreciative of the award, and said the entire team she works with deserves the recognition for their work. "I am absolutely honored to receive this award on behalf of the UK Center for Excellence in Rural Health, and particularly, our Kentucky Homeplace project," said Feltner. "It's about team work, everyone working together to access the needs of the population we service. It takes the community health worker perspective of working with the people in their communities to access the things they need as far as health and social care. It's not about one person, it's about a team working together."
WellCare of Kentucky awarded a $3,000 grant to the organization that nominated each of the eight regional winners and a $5,000 grant to the Center for Excellence in Rural Health in Dr. Feltner's name. The event can be viewed at, https://youtu.be/IFmI0950_60.