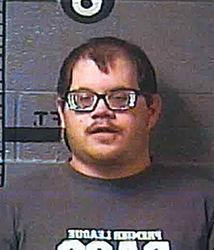 A Hazard man was recently arrested for allegedly having sexual electronic communication with a minor.
According to court documents, in August, Bo Daniel Noble, 23, of Hazard, engaged in conversation with an 11-year-old female juvenile via Instagram. Kentucky State Police Det. Bryan Johnson said that, during the recovered conversations, the juvenile identified herself as a 12-year-old female and Noble identified himself as a 23-year-old male.
Johnson said he was contacted by KSP Electronic Crime Branch Sgt. Jeff Browning regarding the case on Nov. 7. Browning, court documents said, advised that during an investigation, Det. Samantha Flynn, of the Gwinnett County Police Department in Georgia, had discovered that a juvenile female in that jurisdiction was exchanging electronic messages with an adult male located in Hazard, and requested the assistance of KSP.
In August, documents said, the juvenile's mother was looking through her daughter's iPad and found the messages. Noble had started messaging the juvenile on July 30, said court documents, but the juvenile did not begin responding until around Aug. 10. The juvenile's mother contacted the GCPD and informed them of the exchange.
Court documents said that during the course of the conversations, the female sent numerous videos of a sexual nature to Noble at his direction. Noble, court documents said, told the juvenile that she could tell her friends, but not to tell her parents and teachers.
Johnson filed for, and was granted, a search warrant for Noble's residence and belongings during the course of the investigation. Multiple items of evidence were found at the scene, Johnson said.
Noble was arrested on Nov. 21, and was charged with the prohibited use of electronic communication system to procure minor/PE sex offense and promoting sexual performance by a minor under 16 years of age.