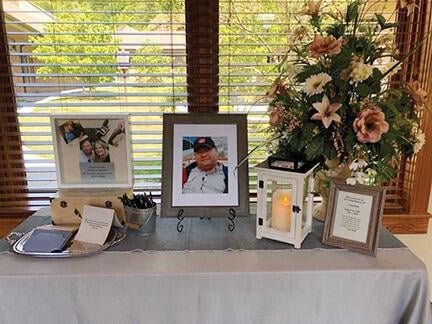 Last week, community members were shocked by the unexpected passing of local community icon, Gregory "Greg" Wells, 59. This week, many friends of the family and local leaders expressed their condolences, and said Wells will be missed.
"I met Greg through sports. My son is about a year older than his youngest son, Griffin, and they were playing youth basketball," said Hazard Mayor Donald "Happy" Mobelini, stating that they ended up coaching their children together from second grade throughout their freshmen year of high school. During this time, said Mobelini, the teams would play 50-70 games a year, and Wells was dedicated to being there for the students.
"I don't ever remember Greg ever missing a game for any reason," said Mobelini.
Local community leaders and friends of Wells said his philanthropic contributions to the communities he operated and served in were numerous, though often anonymous.
"The contributions to our town is amazing. Everybody knows about the bank and the hospice center, but what you don't know is behind the scenes," said Mobelini. "He would do all kinds of things, but never want any credit. Any time I ever had a kid in need at the school, whether it was housing, food, clothes, whatever, I would just mention it to Greg and he would just get it done.
"He was real quiet, unassuming, but he just got things done," said Mobelini. He continued, "He was just a really good man. I talked to him all the time, I even asked him questions about the city. I used him sort of like an adviser, he had no pretense."
Wells, the co-founder and board chairman of First Trust Bank, served the role as board chairman since the bank's inception in 2004. Wells, said his family, also co-founded Leslie Resources in 1982 at the age of 21 with only a two-acre mining permit and transformed it into "one of the most successful and largest employers in the area." According to the Wells family, in the last year before Wells sold Leslie Resources in 1988, there were approximately 475 employees and five million tons of coal.
Wells was also widely known for his work with the Hospice of the Bluegrass (now Bluegrass Care Navigators), where he served on its Board of Directors and helped to establish the Greg and Noreen Wells Bluegrass Hospice Care Center. This is a 12-bed care center facility located in Hazard, and serves southeastern Kentucky by offering patients, families and friends a homelike setting with private patient suites and outdoor patios. Spacious family rooms are available to help provide many of the comforts of home while enabling families to remain involved in the patient's care.
"We join the Wells family and our numerous Kentucky communities in mourning this tremendous loss," said Monica Couch, AVP of Eastern Kentucky Operations for Bluegrass Care Navigators. "Greg's compassionate spirit and commitment to hospice care will be honored at the Greg and Noreen Wells Hospice Care Center with a tribute, and I know each of us are reflecting on the impact he made for our patients and families."
Among many community organizations with which he was engaged, Wells was an active board member of Bluegrass Care Navigators, then known as Hospice of the Bluegrass, from (2003-2008).
His time on this board, said Couch, represented only a fraction of the visionary service that he engaged in with the center and the region that he loved so dearly. "Mr. Wells was deeply committed to his community, and often supported local charities and needs anonymously," Couch said.
Since 2011, and thanks to the support of Greg and Noreen, more than 3,500 patients from counties across Kentucky and several other states have benefitted from the hospice care center, said Couch. The center, she said, has a tribute table set up for visitors and patients to leave photos and messages for the family.
"He and Noreen are some of the most caring people that I have ever met. I have unending respect for both of them. I feel so blessed to have had the opportunity to get to know them both and to work with them," said Couch.
In addition to those roles, Wells also served as a chair and member of the Hazard Community and Technical College Board of Directors and as a member of the Hazard Independent College Foundation. Officials with HCTC said the college feels the loss of Wells.
"Hazard Community and Technical College lost a great friend and supporter with the passing of Greg Wells. We were so fortunate to have him serve us in two major leadership roles," said HCTC President and CEO Dr. Jennifer Lindon.
Wells' term of service on the board of directors, which began in March 2005, involved two presidential searches during his tenure, said Lindon.
"He was instrumental in the budget approval process and his commitment to doing what was best for the community was evident in every decision he made," she said. "Greg Wells was very generous to the college, without ever wanting attention to the gifts that he gave. His legacy for our college and this community will last for many, many years. Our deepest condolences go to his family and friends on a life that ended too soon."
Wells, said local officials, was a leader in his community and will be dearly missed by the host of family and friends he leaves behind.