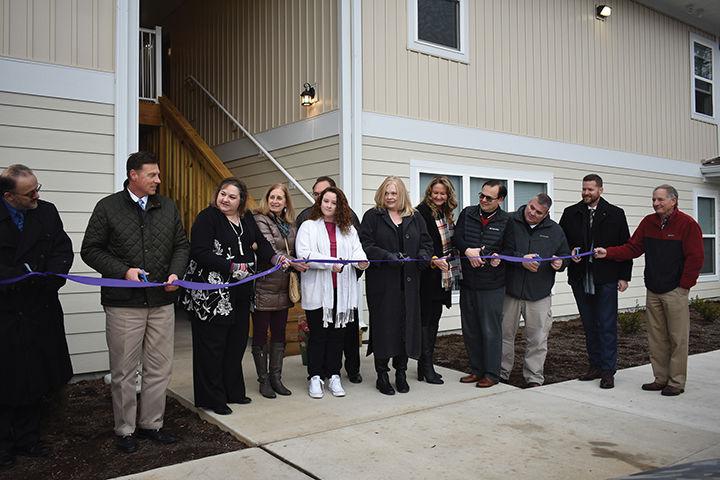 After years of planning and months of construction, Perry County now has a new resource and form of relief for individuals experiencing domestic violence. On Dec. 18, a ribbon-cutting ceremony and open house were held for the new KCADV Homes Hazard apartments in Combs.
The apartment facility consists of 12 separate one-, two- and three-bedroom units, and are the result of a partnership between the Kentucky Coalition Against Domestic Violence (KCADV), National Housing Associates, Inc. (NHA), Kentucky Housing Corporation (KHC) and LKLP Community Action. KCADV Services Project Director Andrea Miller said the addition of the new apartments make the 84th units the organization has constructed across the state, explaining that the first 48 units were opened in 2011, another 24 were opened in 2016 and now to end 2019, they are opening 12 units in Hazard.
Representatives from all the organizations involved said they were glad to be part of this process and believe the project will make a large difference in the area.
"We are pleased to be a partner in this wonderful living community that you see today. We have helped place 12 families in this facility and we look forward to providing wrap-around services that will allow them to maintain their independence for many years to come," said LKLP Executive Director Rick Baker.
LKLP, Baker said, helps people in multiple counties, and in the past year, he said, the organization has helped more than 342 clients obtain employment with LKLP assistance, as well as assisting more than 2,000 crime victims receive individual therapy, group therapy or family crisis counseling services with Community Action's aid.
"This is an opportunity for survivors of domestic violence to have safe and supportive housing for a couple of years while they have a chance to work on some goals that they have to re-establish themselves in their communities," said Miller.
Wayne Koehler, president of the National Housing Associates, Inc., agreed that the apartments would benefit the victims staying there, as well as the community as a whole.
"We have 12 wonderful units that are filled and serving its purpose," said Koehler. "This is going to be here for years to come and serving the purpose that it was built for.
"We have a wonderful location here where we have all the conveniences within walking distance for our tenants, so this is a great location," said Koehler. "Getting to this point is a tremendous accomplishment. Now the process is going forward into making sure that this is a very successful property development for the next 15 plus years."
Betsy Clemons, executive director of the Hazard-Perry County Chamber of Commerce, said the City of Hazard is thankful to have this project taking place in the area.
"We're just so excited to be able to have this opportunity here in Hazard and Perry County," said Clemons. "We work tirelessly to make sure we have affordable and safe housing here in Hazard and Perry County."
State representatives were also present during the ceremony, and expressed their gratitude for projects such as this.
"I know there's a lot of battered and abused people, not just in Kentucky, not just in this area, but across the nation really, but I also know there's a great group of people who work hard every day to make a difference in people's lives," said Rep. Chris Fugate, explaining that the KDACV Homes Hazard apartments will help people in Perry County and surrounding counties have a fresh start in life. "That's what most people need — not a hand out, but a hand up, just help them up and help them get going."
Sen. Brandon Smith agreed with Fugate.
"There will be a lot of families that will come in and out of here. This will be the hand up that they need to move on," said Smith.