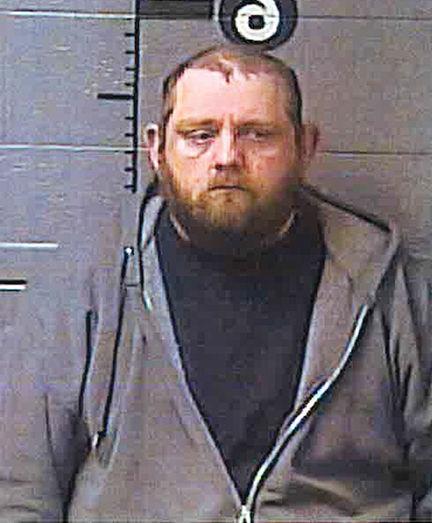 A deputy at the Kentucky River Regional Jail was arrested during a Jan. 1 traffic stop and charged with allegedly attempting to smuggle drugs into the jail, and according to jail officials, the deputy had been under investigation for weeks.
"We have been investigating a deputy that we knew was packing stuff into the jail," said Jail Administrator Lonnie Brewer.
Jail staff became aware of the situation, Brewer said, through monitoring inmate phone calls. During one of the calls, Brewer said, an inmate mentioned that Deputy Shannon Adams, 42, of Camp Creek Road, Hyden, was involved in smuggling drugs into the jail. Maj. Adam Dials led the investigation, Brewer said and they interviewed the inmate to get the information needed.
"Once we talked to the inmate and realized we had a deputy involved, Major Dials contacted the Drug Task Force, and we were able to get a traffic stop over at Lowe's and, in the process the drug K-9 unit did a search of the vehicle," said Brewer.
Because Adams was caught outside of the jail, his charges will not be as heavy as they would have if they had caught him in the act inside the jail, Brewer said. However, they could not risk the drugs coming into the jail, he said.
The drop, according to Brewer, was expected to be delivered to the jail's largest cell, the protective custody cell which houses 36 inmates.
"It really is like a needle in a haystack trying to catch it on their person," said Dails agreeing that the jail officials did what they believed was best in this situation.
"It was really a group effort with us, the Perry County Drug Task Force and the KSP. We worked good together, it went really smooth," said Dials. Throughout the investigation, Dials said, the details were kept to a need-to-know basis to prevent Adams from knowing they suspected him. Once it was confirmed that Adams was involved, Dials said, they figured out his routine for dropping the drugs off.
"We knew every step he was taking," Dials said.
Adams had only been working at the jail for two months, Brewer said, and, based on information gathered during the investigation, jail officials suspect Adams has been trafficking the drugs into the jail for several weeks.
"He denies that he brought anything into the jail before, but we don't believe that," said Brewer, stating that they suspect Adams had been bringing in methamphetamine along with any other substances that inmates' friends and families provided him with.
Knowing that a deputy was involved, said Brewer, was a bit of a shock to the jail employees.
"This is honestly not what we expected at first, but then once we heard it we started watching his behavior," said Brewer. "He did an excellent job as a deputy as far as passing trays, watch tours, the things you ask a deputy to do, confrontation, breaking up fights — he did everything you could ask for with the exception of bringing drugs in.
"It was kind of a whirlwind for us, because we knew it, but we didn't think we could bust him this quick," said Brewer, explaining that it is usually hard to catch corrupt deputies in the act. "Honestly this is one of the best things that could happen as far as we were able to get somebody. I hope we don't have any other deputies doing it, and I hope by seeing him getting arrested it will stop them from doing it and anyone from the future from doing it."
The problem, Brewer said, stems from outside the KRRJ.
"The problem is these drugs come from family members outside of jail," said Brewer. "They're supplying their friends and family in here. This deputy was just a middleman, he picked it up from somebody."
This type of incident, Brewer said, does not happen often and he said he takes many measures to ensure that it stays that way.
"In the jail we've done a lot of things — we've put a body scanner in, we've got a fence to keep people from putting holes in the wall, we strip search our inmates on work release and even now we're changing the amount of clothing to try to keep anything from coming in. We don't want anything coming into the jail," said Brewer. "We do everything in our power to keep it out. A rogue deputy making $200 on the side is not a reflection of every deputy with this jail."
In addition to those methods, Brewer said, jail officials try to schedule for at least two deputies to be working together at all times to keep each other accountable and to attempt either of them from being approached with an offer from an inmate.
"We have 250 inmates and 240 of them want to get high, so they're going to do everything they can to get it," said Brewer, stating that he hopes the guards have the willpower to turn the offers down and know they're being watched.
"We would hope that in the future we can get deputies that would not fall into that trap," he said. "We hire people and we think they're good people and they do good, but you just never know what the lure of greed does."
Brewer and Dials said the investigation is ongoing to ensure that no other deputies were involved, and in the future, the jail will continue to monitor calls for situations similar to this.
"We are continuing our investigation. We have not stopped, we don't stop," said Brewer.
During the traffic stop, court documents said, officers located a cigarette pack with six suboxone tablets and one suboxone strip inside of Adams's vehicle. Adams was arrested and charged with first-offense second-degree trafficking controlled substance.
Adams is scheduled to appear in Perry County District Court for his arraignment at 10 a.m. on Feb. 4.