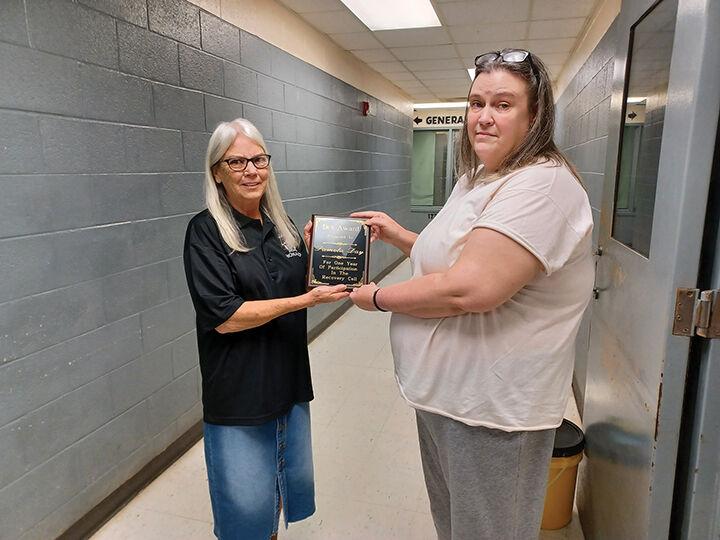 Recently, an inmate at the Kentucky River Regional Jail received an award for her completion of one year in the Recovery Cells, a recovery outreach with Primary Care Center. The Recovery Cells are two cells (one for females and one for males) dedicated to inmates who are interested in seeking help with substance abuse. On Nov. 18, Pamela Day, an inmate at KRRJ, received the Dex Award for one year participation in the Recovery Cell.
Day said she has spent 14 months in the cell and has learned a lot during her time there.
"Before I came too jail I knew nothing about addiction. I knew nothing about rehabs nor the 12 steps, anything. When I came to jail I came straight to the Recovery Cell and it's taught me so many ways to cope," said Day. "I don't think I'd be clean or be able to stay clean without this class."
Receiving the award, she said, makes her feel like she is making progress.
"It makes me feel like I've accomplished something and it gives me hope for the future," said Day.
Eunice Howard, jailer, said she is honored to present the award in memory of her late husband, former KRRJ Jailer Dexter Howard.
"It is truly humbling for this award to be given in Dexter's name. Dex put his heart and soul into this position as jailer. He always wanted to be a positive influence in our inmates' lives. He began every day with prayer with some of the inmates. I strive daily to do a good job to make him proud. We are very proud to offer this outreach recovery here at our jail," said Howard.