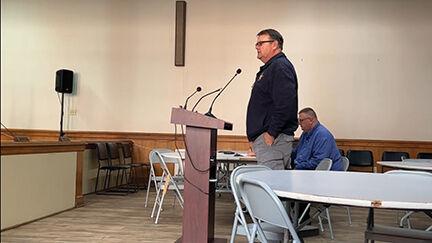 Over the years, the Kentucky River Regional Jail has partnered with the county to allow inmates in the jail's work release program to go out into the community, under supervision, and clean up garbage along roads, cut grass in cemeteries and complete other duties to clean up the area.
As he takes on his new role as Perry County jailer, Minor Allen recently provided the community with an update about the jail's inmate work release program during the March 6 special called meeting of the Perry County Fiscal Court.
The program, said Allen, typically has as many as seven workers out at a time. The program, he said, is currently going well and has already exceeded his goal just in the first two months of this year.
"Our work release program right now is going pretty good, going pretty strong," said Allen. "I set a goal when I first came into office that before we got into the grass cutting/cemetery-type season we would pick up 1,200 bags of garbage. Well we've already done that pretty much."
With the program beginning their work for the month of March, Allen said he expects to exceed that goal.
"I think we'll be (at) 1,800-2,000 bags of garbage before we get into that," he said.
In Jan., Allen said, the KRRJ inmate work program picked up 321 bags of garbage, cleaned two cemeteries, worked 198 hours, collected 11 tires, cleaned up one stream and cleaned up two dump sites. The program also spent 14 days at the Recycling Center, he said. In February, Allen said, the program picked up 802 bags of garbage, collected 28 tires, picked up four loads of trash, cleaned up six dumpsites and spent 10 days in the recycling center.
"During February we had an outstanding month," he said.
He said that, between the days of March 5-6, the program collected over 70 more bags or garbage.
Allen said the crews have worked in several areas all across the county including Leatherwood, Buckhorn, Lost Creek, Hazard and Chavies. Throughout their work, he said, they have worked with many partners, which he appreciates greatly.
"We've got some great community partners that are helping us out there," said Allen. "I'm very pleased with that and how everyone's responding to it."
As the issues of littering and illegal dumping continue to grow, Allen said the KRRJ's inmate work program will continue to work with the county and do what they can to help clean up the community.
"The need is great out there for it and we're going to continue to do that," said Allen. "We're going to continue to do that and improve our county and try to clean it up a little more."