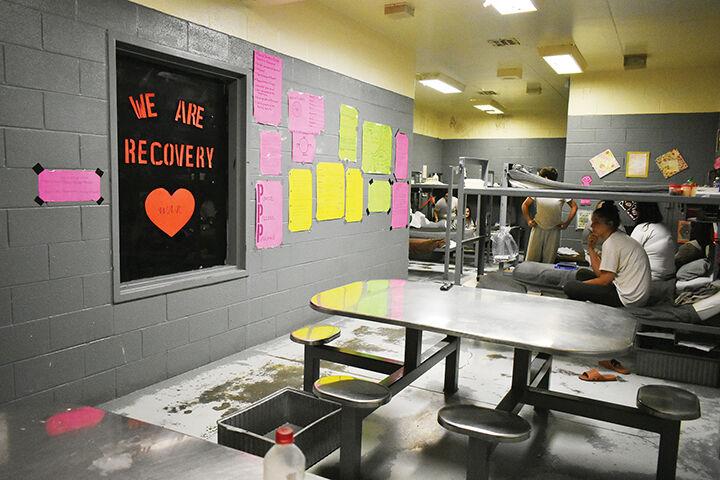 Many inmates of the Kentucky River Regional Jail are currently receiving help from the Recovery Cells, which were implemented last fall, said KRRJ officials. KRRJ Administrator Lonnie Brewer said that, last fall, the jail piloted an outreach with Primary Care, and the partnership was made possible through a grant awarded to Primary Care.
The Recovery Cells, Brewer said, are two cells (one for females and one for males) dedicated to inmates who are interested in seeking help with substance abuse. The pilot, he said, started off with female inmates, but was recently expanded to include males as well. The outreach, said Brewer, offers the inmates a chance to experience and learn about treatment centers before ever going to one.
"We've seen a lot of people going to rehab that were just coming back to jail," said Brewer. "We've literally seen people go to rehab and be back, leave on a Friday and be back in jail on Monday."
The Recovery Cells, he said, are hopefully going to allow inmates here in Hazard with substance abuse problems to go to their local jail instead of other counties for help.
Gracie Nantz, the outreach supervisor, said the classes began in Oct. 2019. The Recovery Cells, she said, gives inmates a foundation to want to go to long-term treatment.
"It's a big deal about people going and then they turn around and leave, because it's like a shock to them. If you've been doing something all your life, it's hard to change overnight," said Nantz. "I think it's given them a really good foundation, a little bit of knowledge of what they're looking at when they get to treatment so they're not just lost."
Vanessa Combs, a peer support representative, teaches the recovery class, which is similar to a cognitive behavioral therapy program. Combs said she also teaches the Moore curriculum, which focuses on accountability and looking at different perspectives on the world. The classes, said Combs, are held from 9 a.m. to 2 p.m., Monday through Friday. During the outreach, the inmates complete book studies, art classes, homework and  participate in Zoom meetings.
"We really promote discussion, because it's about letting them arrive at their own conclusion about the mistakes they've made and the goals they want to achieve for the future," said Combs.
Once out of jail, participating inmates are, or can be, offered transportation to and from treatment and therapy, said Nantz. Additionally, she said, outreach mentors can have individual sessions with inmates who request it. Throughout the outreach, Nantz said, KRRJ staff, Scott Blair, Kevin Johnson, Dr. Morgan Burch, Little Caesars, Pantry Shelf, Wal-Mart, Isom IGA, Save the Children and Voices of Hope have assisted the program.
Currently, said KRRJ staff, there are eight females and 14 males enrolled in the outreach.
Lisa Mosely, an inmate at KRRJ, said she believes the Recovery Cells have helped her a lot since she has been in the facility.
"When I got here I was at rock bottom and this has been a safe place to refocus, regroup and instead of going in these other cells — you get a dark head space there — you're kind of picking up where you left off on the streets, it gives us time to wrap our head space and start on our recovery before we even get to rehab or drug court," said Mosely.
"I think it increases our success rate, it helps keep that mindset that we're better than this," she said. "When you get in some of these other cells what you're going to be talking about all day long is all your criminal pride and things you did when you were wild on the streets and you're going to be looking at new veins to hit when you go out the door, but in here (the recovery cells), that just kind of stops."
Mosely said the conversation in the Recovery Cells is more focused on their future plans and what they want to do in recovery.
"It's just not like other cells, it's really peaceful. We find a little bit of serenity and peace," she said.
Blake Gibson, KRRJ inmate, agreed, stating that the outreach has helped him learn to hold himself accountable for his wrong-doing and to be more accepting of others.
"This class has taught me a lot about who I am as a person. It's showed me ways of how my thinking has been wrong, it's helped me learn how to deal with it and gave me the tools and the abilities that when I do get out of here to be able to work on myself," said Gibson.
KRRJ and mentors with the outreach said they believe the cells are working successfully.
"I think the outreach is doing really well," said Marcus Lindon, a peer support representative of the outreach. Lindon, a former KRRJ deputy, joined the outreach in March of this year, so he said this has given him insight from both sides, judicial and medical.
"I do think we've seen success with our females because in that short period of time, we've had people go to rehab and we've had folks that have called back. Those are small steps, it's a lot about just planting seeds and I think that's what we're doing," said Brewer.
Many inmates, he said, have been requesting to join the cells, which Brewer said he feels that alone also shows progress.
"It isn't easy to work with inmates all the time, they're very manipulative, they're going to try things, but we're seeing a change of culture and that's the biggest thing. I'm hoping that going forward, I'd like to add a third cell at some point," said Brewer.
KRRJ, said Brewer, is the only jail in the state doing this outreach. Other places, he said, offer Substance Abuse Programs (SAP), but this jail doesn't, so the Recovery Cells were a great step into the future, he said.