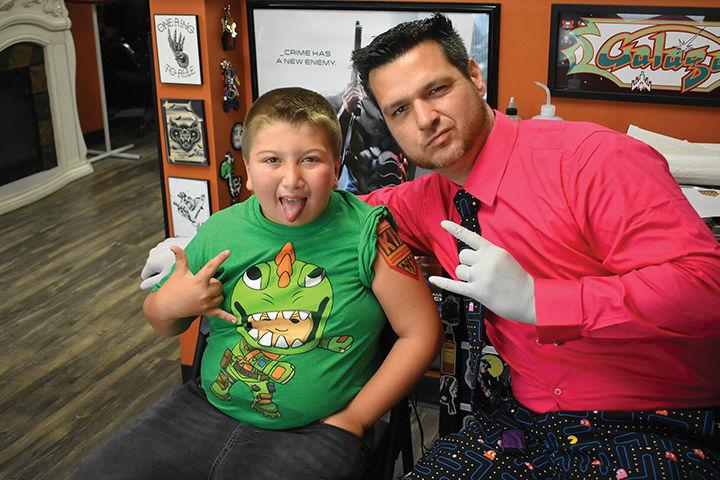 More than 100 people attended Lost Gypsy Tattoo's "Tats for Tots" fundraiser on Aug. 1 to get their children "tattooed" for a good cause.
Throughout the day, Lost Gypsy Tattoo employees Draven Gayheart, Brad Combs and Will Hurt, along with guest artist Brandon Baker, offered Sharpie tattoos to children 2-12 years of age for a minimum $1 donation. The shop also took donations of toys, clothing, blankets and more. All proceeds and donations from the event went to the Care Cottage, a non-profit organization dedicated to reducing trauma experienced by child victims of sexual abuse.
Gayheart, owner of Lost Gypsy Tattoo and an artist there, said the idea for the fundraiser came from him drawing on a client's son while they were waiting for their parent to get a tattoo. Gayheart said he posted the picture and got a big response online, which prompted the idea of having a fundraiser.
"We talked to some different establishments and we felt the Care Cottage could benefit the most from it," said Gayheart.
Victoria Halcomb, a Care Cottage victim advocate, said she loved the idea and was grateful for the support.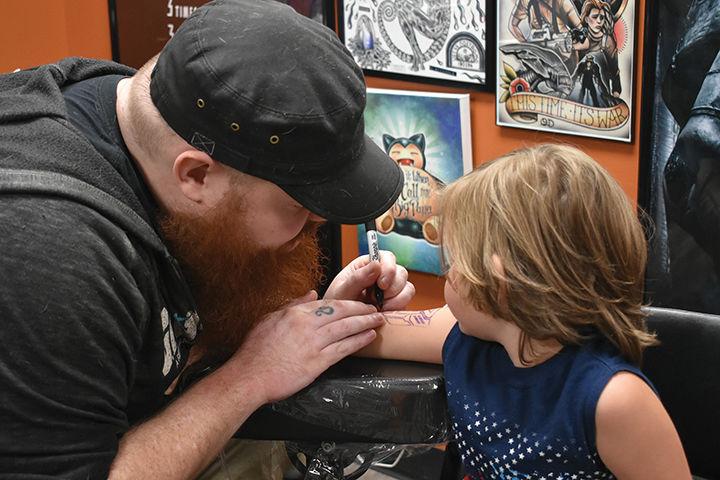 "We're doing a lot of new outreach and community fundraisers," said Halcomb, explaining that the Care Cottage wants to raise more awareness for their mission. "We work with children ages 17 and under so I thought it was a great idea to not only get children of the community but something that a lot of our kids can do as well.
"They volunteered their whole day to come in and just do these Sharpie tattoos for the kids," she said."I love the idea. I love tattoos, I have several myself, so does my husband," Halcomb continued. "Of course all little kids love getting those stick-on tattoos that never last more than like two hours, so when he (Gayheart) was talking about the Sharpie ones and I saw his post about one he had done on another little boy, I just thought it was a great idea."
During the event, shop members also held a grand reveal of their new addition, a retro arcade above the shop. During the fundraiser, anyone was able to play the games, but now the arcade is exclusively for clients of Lost Gypsy Tattoo.
"We've been working around the clock for the last six weeks, I'd say, to get the arcade ready," said Gayheart, stating that he is excited to see it mostly completed.
Approximately $1,664 was raised during the fundraiser event, and the money from the arcade machines will be added to the total as well, said Gayheart. In addition to those funds and the donation items, Gayheart said, the shop will also throw in their own donation, bringing the grand total to an even $3,000 to be given to the Care Cottage.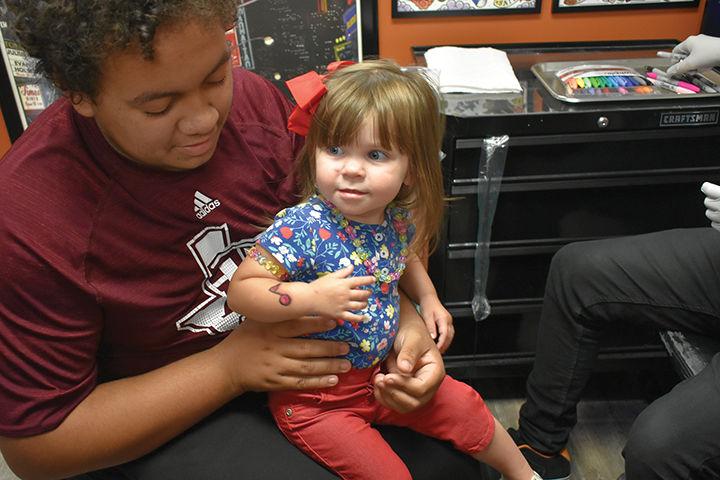 Gayheart said they are open to the possibility of having more fundraiser events in the future.
"Anything we can do to help, we're here to do that," he said.