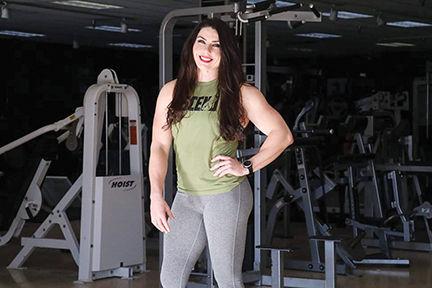 A Hazard native recently received her pro-card in Strongman, came in third in one of the most prestigious international competitions and was named Kentucky's Strongest Woman this year.
Britta Maggard, 33, of Hazard, has been a science teacher at Hazard Middle School for seven years. For the past few years, Maggard has also been a personal trainer. In high school, Maggard said she played basketball. After she graduated, she said, she continued to stay active and work out. Three years ago, Maggard began exercising in a local gym and said that some of the guys there saw potential in her and encouraged her to train for strength sports.
Maggard said she began training for power lifting and participated in some competitions. Maggard said it was her coach and friend, Paul Hughes, owner of Ascend Gym in Hazard, who pushed her to try for the Stongman and Strongwoman challenges.
"I've been competing just about little over a year," said Maggard. "I've worked with a Strongman crew in Frankfort, learning more of the implements we use in competition."
Maggard said her first Strongman Corporation competition was in Louisville, where she won Kentucky's Strongest Woman. Last May, Maggard competed in "The Beast of the Bluegrass," winning the competition, and earning a spot at this year's Arnold Amateur Strongman Worlds in Columbus, OH at the Arnold Sports festival. The Arnold competition, she said, is the big show that women in weightlifting work towards, with the opportunity to earn your pro-card and make main stage with all the pro-women.
"I trained nine months for this competition," said Maggard. "It was over three days of seven events with the best of the best from all over the world. I ended up placing third against veteran athletes that had been there before and earned my pro-card. I also was invited by Rogue Fitness and Arnold Sports Festival to set the sandbag over bar record for the females. I ended up not setting the record, but was shy by five pounds.
"This opens up all new opportunities for me in this sport," said Maggard. "It was a really good opportunity for me to get to go, coming from Hazard, showcasing female strength. I felt very good about it, I was very humbled. I worked hard to get there."