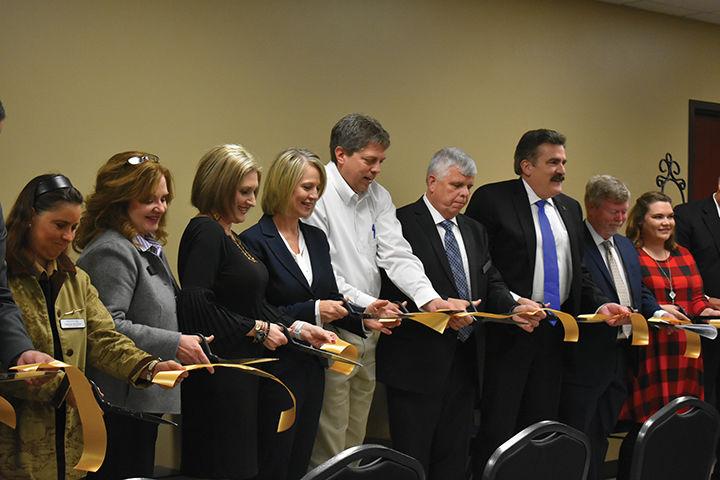 Last week, on Nov. 13, a grand opening and ribbon-cutting ceremony was held for the Mary E. Martin (MEM) Diabetes Center of Excellence at the Primary Care Center of Eastern Kentucky, the first affiliate of the University of Kentucky Barnstable Brown Diabetes Center (BBCD). A celebration for the inaugural affiliation was also held during the ceremony. The MEM Diabetes Center will also be the first ambulatory affiliation with UK HealthCare.
"Today is a milestone for us," said Barry Martin, the chief executive officer at Primary Care Center, who also serves as chair of the board of directors for the Mary E. Martin Diabetes Center of Excellence, explaining that the diabetes center has been "a dream in the making" for more than 15 years.
"Primary Care Center of Eastern Kentucky and Mary E. Martin Diabetes Center of Excellence are very pleased to expand its partnership with the University of Kentucky's Barnstable Brown Diabetes Center," said Martin. "Addressing the issue of diabetes is essential to improving the health of Kentuckians who suffer from this illness.
"It is no secret that Eastern Kentucky has a high population of patients diagnosed with diabetes," said Martin. "When compared to the state of Kentucky, where the estimated population diagnosed with diabetes is 13 percent, Perry County numbers are higher at an estimated 16 percent," Martin said. "This number doesn't include patients with pre-diabetes, the pediatric population or those that have multiple risk factors for Type II diabetes."
The MEM Diabetes Center, Martin said, will offer a wide variety of services including same-day lab results, diabetic pedicures, eye exams and more.
"We pride ourselves on offering comprehensive diabetic services from the head to the toe," he said. "The new partnership will bring needed support and hope for our community and, we hope, all Eastern Kentucky communities. We deeply appreciate the commitment by the University to our clinic, our region and to the Commonwealth."
Karen Kelly, district director from U.S. Rep. Hal Rogers' office, agreed that the increasing number of diabetes cases is alarming, and that the center will greatly help combat that issue.
"We have tremendous healthcare challenges in the mountains. We talk a lot about addiction, cancer and heart disease for good reasons, but we must do a better job raising awareness about diabetes," Kelly said. "The statistics are staggering. In 2016, Kentucky had the fourth highest death rate in the U.S. due to diabetes. This is an increase from 14th in 2014."
Diabetes, Kelly said, is the sixth leading cause of death in Kentucky.
Rogers' office, Kelly said, along with the MEMDC and BBDC officials, pledge that diabetes awareness and care will be a top priority moving forward.
"PCCEK does an incredible job of focusing on what the true healthcare needs are and they work to meet those needs, which means that folks in this community get to stay home for quality healthcare, lifting the expense and the burden of travel," said Kelly.
The BBDC at UK, center officials said, was first established when twins Patricia Barnstable Brown and Priscilla Barnstable, along with their mother Wilma, pledged the initial funding to support the center in memory of Patricia's husband David who passed away from complications of diabetes in 2003.  
For more than a decade, the BBDC has been a leader in diabetes prevention, education, research and comprehensive care, center officials continued. However, they said, as the burden of diabetes in Kentucky continues to grow, the UK BBCD is pushing forward to improve diabetes prevention and quality of life and to increase better health outcomes.
"Diabetes is an epidemic in Kentucky, and finding ways to prevent and treat this disease is vital to all of us whether you are a healthcare provider, a family member or a patient. We have seen the impact that it has and continues to have in all of our communities," said Dr. Mark F. Newman, UK's executive vice president for health affairs.
The large jump from 14th to fourth in just a few years, Newman said, is one of the issues that will be addressed and hopefully resolved by the affiliation.
"This was a substantial increase over just a small number of years. These are statistics that are unacceptable for our population. We need to do more," said Newman, explaining that the affiliation is a great step towards that goal, because it will open doors for more opportunities in the future.
"We can achieve more by working together in partnerships such as this to better serve the patients and communities throughout this region and the Commonwealth," he said. "It is our mission, we feel it is our obligation, to use our resources and our unique capabilities in education, research and clinical care to improve the state's overall system of care."
Other speakers at the ceremony agreed that the partnership and affiliation between the organizations was a major step for the area.
"I think that we all see change is coming to Appalachia, but it is coming because of us. The partnerships that we are building with each other are what is going to change the lives that we're seeing," said Perry County Judge-Executive Scott Alexander.
Jon Folks, director of Barnstable Brown Diabetes Center, also said the affiliation was beneficial to the region.
"I think these kinds of cooperative efforts are going to be necessary to really tackle what is a very problematic healthcare issue," said Folks.
The aim for BBCD affiliates, center staff said, is to promote evidence-based approaches to diabetes as well as provide standardized methods to diabetes education. As an affiliate, the center in Hazard will have access to clinical research trials and to the clinical expertise of UK faculty in diabetes and endocrinology. Additionally, access to educational materials and UK programs for patients as well as training and education programs for staff and providers and collaborative approaches to quality and process improvement.