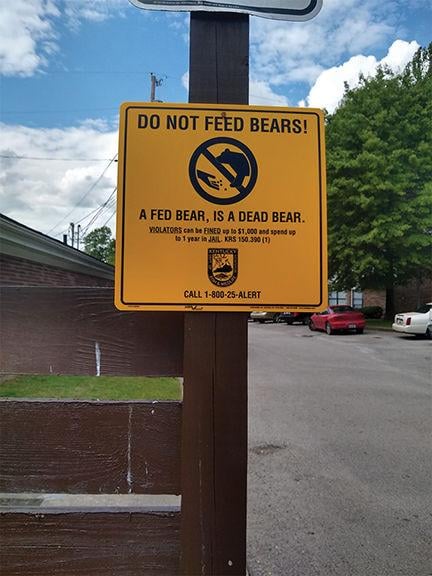 For the last few months, several individuals in various areas of Perry County, including within Hazard city limits, have experienced black bear sightings. According to officials with Kentucky Fish and Wildlife, there has been an increase in the numbers of black bears within the area, making it a common occurrence compared to previous years.
"In and around the Hazard area, we have seemingly had a few more reports this year, but it's really not out of the ordinary," said John Hast, the bear program coordinator for Kentucky Fish and Wildlife. "Five years ago, we didn't really have the number of bears in the vicinity as we do now."
Some of the areas that community members have reported encounters with black bears recently include the Cherokee Hills Apartment Complex, Buckhorn Lake, Broadway Street and Viper. Many times, Hast said, bears will avoid humans unless they are being fed, so Kentucky Fish and Wildlife officials recommend that all possible food sources are stored properly.
"Never feed a bear. Bears in Kentucky are as lucky as a bear can get, we have good wild foods all year so they're never (going to go) hungry," said Hast. "The old saying 'a fed bear is a dead bear,' definitely holds true. When they get used to getting handouts from people, they become brave and they start approaching people, and at that point we've got no option but to capture and euthanize that bear."
Some of the ways to prevent this, he said, include proper storage of garbage containers and making sure food is not left outside.
"Specifically, the best thing you can do is secure your garbage, that's our number one issue. About 75 percent of all the calls that we get are fixed by securing garbage," said Hast, adding that it is best to wait and put garbage out the morning of garbage pickup. Commercial dumpsters at businesses need to be controlled and secured too, Hast said, explaining that they often provide easy access to human foods. By securing those dumpsters, he said, it will keep the bears, customers and employees safe.
Additionally, Hast said, bird feeders, outdoor pet food bowls and compost piles should be monitored and kept clean when possible.
If anyone were to encounter a bear, said Hast, they should firstly appreciate the opportunity, and just remain calm and let the bear conduct its business, then call Kentucky Fish and Wildlife if needed.
"Always keep your distance, let it do its thing," said Hast.
For more information, visit, https://bearwise.org/, or, fw.ky.gov, or call Kentucky Fish and Wildlife.