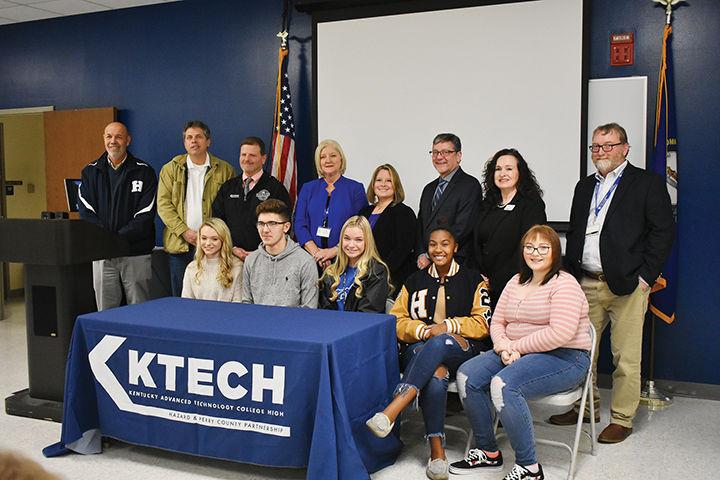 On Friday, Dec. 6, a new program was announced that will offer free community health worker tuition and training for area students when United Healthcare and the University of Kentucky Center of Excellence in Rural Health (UK CERH), in partnership with Hazard Community and Technical College, announced a $35,000 grant to support the first-ever "Students Striving Toward Better Health in Self and Community" initiative, which will be available to Perry County and Hazard Independent high school students.
Officials with the organizations involved said students enrolling in the program will receive tuition-free education and training for community health worker certification. UK CERH will be the lead in the development, coordination and execution of content and programming with UHC providing expertise and support resources. The CHW curriculum, event organizers said, is based on the Kentucky Homeplace training model and is built upon Kentucky Homeplace's 25 years of community health worker experience. Classes will be conducted on-site at HCTC.  
Many of the organizations' officials said that the connections made in this process will help improve the number of people receiving medical help beyond what they do now.
"In Eastern Kentucky, we've got a lot of barriers, a lot of obstacles that clients face," said Kentucky Homeplace Director William Mace Baker, explaining that the program is an excellent opportunity to help break those barriers and move forward by using a passion to help the community.
"Really near and dear to my heart are community health workers and what they can do and the barriers they can help us break down in the communities," said United Healthcare Community Plan of Kentucky CEO Amy Johnston.
The mission, Johnson said, is to help people here live a better, healthier life and have better connections to people in the medical field.
United Healthcare Community Plan of Kentucky Chief Medical Officer Dr. Jeb Teichman said he believes the connections that are being formed will be very beneficial to all partners involved. UHC, he said, has the resources to help people, but currently do not have very high engagement rates with community health workers, because people don't know them. However, he said, by training local people for these positions, he hopes and feels like the rates will improve with this program.
"I am really excited for this," said Teichman. "This is just really exciting to me and I'm so glad we're a part of this."
The pilot program, officials said, presents a unique, first-in-class partnership that demonstrates how private business, higher education and communities are addressing rural health and opportunity in Kentucky together. The grant will cover costs for approximately 23 students, and will include a United Healthcare virtual mentor internship and a paid apprenticeship.
"Like UK, HCTC is very concerned about our community here and about all of the healthcare stats in the region," said HCTC President Dr. Jennifer Lindon. "We feel, as an educational institution in our community, it is part of our responsibility to help make our community aware and help us begin to take steps to remedy those situations."
Through this program, said Lindon, students will be able to earn a certificate through HCTC and be doing an apprenticeship with the UK Center of Excellence in Rural Health through the K-Tech program.
Many local leaders said they were very grateful for this program and the partnerships formed through it, and are looking forward to the opportunities it will bring in the future.
"We'll take advantage of anything that is free that will help the community," said Hazard Mayor Happy Mobelini, explaining that Hazard High School partners with the community college and has a wonderful relationship with the county schools. "Our goal is to improve the county and the city, we want our kids to stay here or go away and come back, and to have something to come back to."
Members of the Hazard-Perry County Chamber of Commerce agreed.
"It is great to have all these different groups and organizations come together and work together for the benefit of our community and to keep our young people home," said Chamber of Commerce President Janet Smith. Chamber of Commerce Executive Director Betsy Clemons said she felt the same.
"We're excited for this opportunity for our young people," said Clemons.
"Seeing something like this coming in just tickles me to death, because any opportunity we can get for these kids we're going to take," said Wanda Brown, the Perry County Fiscal Court event coordinator and co-chair for the Perry County Community Foundation.
Perry County Judge-Executive Scott Alexander said the program is another step into the future of bettering the county and the region as a whole.
"It is so exciting to see all the opportunities that we're bringing to the forefront for our youth," he said. "Coming together to see the barriers being broke and the partnerships being formed, that's going to make the difference in Appalachia."