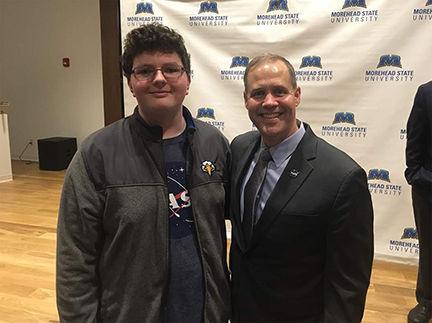 The Challenger Learning Center of Eastern Kentucky holds multiple programs and camps throughout the year. Through these programs, many local children are given the opportunity to learn more about the sciences and space. For some, like 18 year old Jody Caudill, the center has inspired them to continue their education and seek a career in a field related to the center's mission.
Jacqueline "Jackie" Caudill has been working at the Challenger Learning Center of Kentucky for around a year, but said she has so much more experience with the facility because of her two sons. When her sons were younger, Caudill said, they would participate in CLCKY's programs and camps. The youngest, Jody, was majorly impacted by the center, she said, and was inspired to pursue a career in the sciences.
"Jody has always loved learning and has always loved school, and he really fell in love with engineering here at the Challenger Center," said Caudill.
Jody, Caudill said, is currently a freshmen at Morehead State University, and is enrolled as a Space Systems Engineering major. During his first semester at MSU, Caudill said, Jody was hired as a student planetarium operator at the Morehead State University Star Theater.
"He's grown up attending different camps and events here at the Challenger Learning Center," said Caudill. "A few years ago, he was chosen to attend Destination Space in the University of North Carolina, and that was through the Challenger Center. From that he realized he wanted to be an astronomical engineer, so he's pursuing that as a Space Systems Engineering major at Morehead State University."
Last month, on Feb. 20, Caudill said Jody had the opportunity to meet Jim Bridenstine, the administrator of NASA.
Tom Cravens, director of the CLCKY, was also in attendance that day, and said that Bridenstine was there to visit MSU's space science center.
"One of the main reasons is because Morehead State is building a satellite that's going to be going to the moon that is studying and researching water on the moon to find out how much is there and where it's located for future manned missions to the moon," said Cravens, explaining that through project "Lunar Ice Cube" he and Jody were able to meet Bridenstine.
"In addition, Morehead State has the radio dish," said Cravens. He continued, "This dish is getting ready to go into the deep space network, and up until this point, there has only been three deep space network locations in the world."
The dish at MSU, he said, will be the fourth in the world and will be tracking satellites and missions out in space.
Both Cravens and Caudill said they were grateful that Jody was able to experience the CLCKY programs and pursue something he loved.
"Jody started coming here when he was in first or second grade," said Cravens. "He's a really smart kid and really has that aptitude for mechanics and electronics, so he was kind of a given to participate in the Destination Space program. Then to see him go on and enter the space systems engineering program at Morehead State and to know that when those graduates leave that program they are in high demand, that's very satisfying to think that you've seen this young man grow up and is going to do well."
"As a mom, I couldn't be more proud of him," said Caudill, explaining that she is thankful for the CLCKY staff. "Jody wouldn't be doing what he is today if it hadn't been for his experiences at the Challenger (Center)."