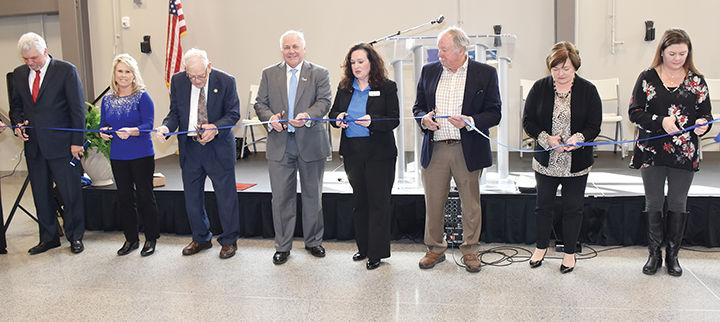 A grand opening celebration and ribbon-cutting ceremony was held on March 5 for the new E.O. Robinson Intergenerational Training Center at the Lees College Campus of the Hazard Community and Technical College.
The facility, said HCTC officials, costed $7.1 million, and the funding came from community donations, business and industry donations, faculty, staff and student donations, a donation from the E.O. Robinson Foundation, the Telford Foundation, a grant from the Appalachian Regional Commission and Work Ready Skills Initiative dollars from the Commonwealth of Kentucky. The center is approximately 16,066 square foot, and houses the new Manufacturing Engineering Technology program and the Medical Assisting program.
"The E.O. Robinson Intergenerational Training Center was many years in the making, but the community's time, ingenuity and tenacity paid off," said Dr. Jennifer Lindon, president/CEO of Hazard Community and Technical College.
She said the center will allow the college to further move into the future.
"The E.O. Robinson Intergenerational Training Center will take the Lees College Campus to the next level and allow us to provide high-end technical training in healthcare and advanced manufacturing for the people of the region," said Lindon. "The classrooms and labs are built to be flexible, as business and industry needs change. We will be able to provide fast-track, customized business and industry training, as well as targeted career pathway training for high school students."
KCTCS President Dr. Jay Box, who served as HCTC president from 2002 to 2007, agreed with Lindon.
"The new E.O. Robinson Intergenerational Training Center is another step HCTC is taking to help ensure earning a college credential is available to people of this region. We all know that in today's economy a high school diploma alone just doesn't cut it with employers," said Box. "Today's careers require some education and training after high school. This doesn't always mean a typical four-year degree.
"In fact, in most cases where there are multiple job openings, such as manufacturing and health care, employers are seeking people with industry specific credentials or an associate degree. That's where this new facility can help the most because it will offer programs like manufacturing engineering technology and medical assisting," he continued
"Our students will be ready for high paid, highly technical positions at companies like Appalachian Regional Healthcare, Juniper Health and the Kentucky River Medical Center. They will work at Dajcor, an aluminum parts manufacturer newly opened in the Coalfields Industrial Park, as well as companies like Link Belt, Nestle, and Gateway," Lindon said.
HCTC has students enrolled in different high schools taking advanced manufacturing training at the new facility, said college officials. An eight-week class was scheduled to begin March 16. Additionally, HCTC has a full class of medical assisting students who are currently training.