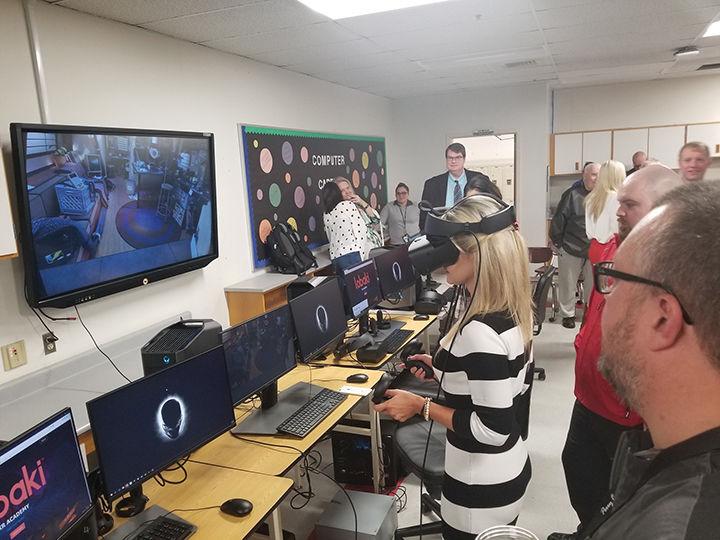 The Perry County Public Schools have launched Kentucky's first Virtual Reality (VR) Academy to prepare students for opportunities in the digital economy and to utilize the emerging technology in selected areas of classroom instruction. Beyond developing fluency in the technology, students will learn to create, engineer and develop VR applications — a skillset increasingly in demand in the exploding global technology sector.
"Our mountain community has been hit hard by the decline of the coal industry. Our schools must take the lead in finding innovative approaches to providing opportunities for our students. That's exactly what we're doing here," said Jonathan Jett, superintendent of the Perry County Public Schools. "This school board and I will never give up on these kids," he added. The school system is working to integrate VR into the 2020 spring semester. Jett said, "This is an opportunity that will make our students employable anywhere in the world."
The VR Academy is the result of a partnership between the school system and Mississippi-based LOBAKI Inc., a leading national VR firm. LOBAKI has worked with school district leaders in five states to implement nearly 20 academies, developing 21st Century career pathways and curriculum.
"From creating career pathways for kids in the Mississippi Delta to integrating VR into biology classrooms in Tennessee, we're changing the lives of young people," said LOBAKI Founder & CEO Vince Jordan. "We are over the moon about bringing this game-changing innovation to Appalachia and are fired-up by the passion of these educators to open new doors for their kids. We've learned that technology opportunities follow a prepared workforce."
Kentucky businessman and solar developer Adam Edelen serves as vice-chairman of LOBAKI and structured the partnership between the school system and the VR firm.
"Bringing the biggest hearts in coal country together with leading national tech innovators is a big, important thing. "This is very much the future," said Edelen, "this is what the internet was 25 years ago.
"Not only will we provide teachers new tools in educating a tech-savvy generation, these young people will have better than a fighting chance to seize the opportunities of a new economy," said Edelen. "Above all, it means we can build the future rather than chase the past."
Funding provided by a Berea College "Gear Up and SOAR" grant has been utilized by the Perry County Schools to establish the VR Academy.