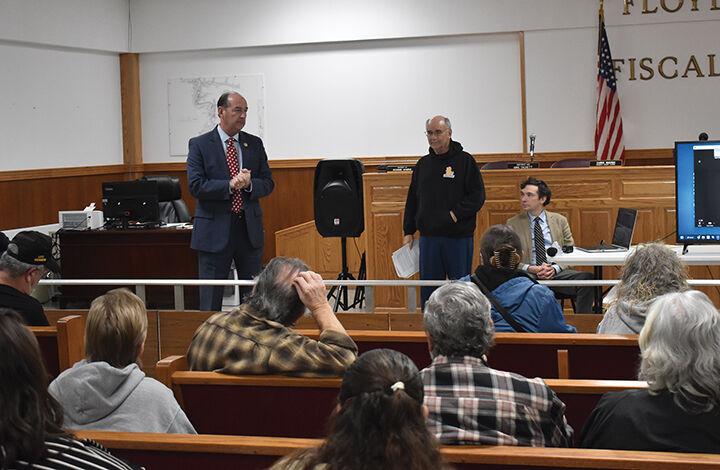 The latest developments in the six-year-long battle to restore the benefits of the "Forgotten 500" a group of individuals who lost their Social Security benefits due to the actions of Eric C. Conn, was the focus of a meeting held Jan. 12 in Prestonsburg.
Pillersdorf announced recently that the volunteer attorneys representing the Conn clients and the Social Security Administration had reached a settlement which could result in hundreds having their benefits restored. At the Jan. 12 meeting at the Old Floyd County Courthouse, Pillersdorf said that those who prevail in having their benefits restored may be able to get paid for the six years they were suspended, as well.
"The SSA will be mailing letters to the 'Forgotten 500,'" Pillersdorf said. "If you ask for a new hearing, you can get your monthly benefits reinstated. If you win the new hearing, you get six years worth of backpay."
Pillersdorf said he had spoken to the head lawyer of the Social Security Administration's Department of Justice, and had reached an agreement.
"It's not 10 out of 10; we didn't get everything we wanted, but we got a lot," Pillersdorf said. "It's a settlement negotiation — we have to do business in the real world. I think we got 9 out of 10."
Pillersdorf said the agreement was a historical achievement, and wouldn't have been possible without the volunteer lawyers, the greatest such effort in the country's history.
"This has gone on for seven and a half years," Pillersdorf said. "We did hundreds of U.S. district court cases, and more than 1,000 hearings."
Pillersdorf said he was driving home on the Friday before Memorial Day weekend in 2015 when he received a call from attorney John Earl Hunt. Hunt informed him that a common client had received a letter from the SSA, suspending his benefits. Shortly after, he learned of nearly 900 more individuals who received the same letter, immediately suspending their benefits without notice.
"I'll never forget it," Pillersdorf said. "John Earl told me there would be suicides. Ten days later, the suicides started."
Pillersdorf said one tremendous change which led to the agreement was the doing away of the presumption of guilt of the forgotten 500.
"Ninety-nine percent of the Conn clients never met Eric Conn. The idea that they knew what was going on is false'' he said. "Today, you are no longer being treated as co-conspirators of Conn. I think this agreement means that they are acknowledging your victories."
Pillersdorf said there's a chance that "The Big Conn" documentary, which aired on Apple TV, helped get the wheels rolling as well. The Conn clients spoke in the film, and Pillersdorf said this was the best decision. After the documentary, he said, the SSA began calling and emailing him, wanting to talk settlement.
"The main part of the settlement is this: The SSA will begin mailing letters to the forgotten 500. If you ask for a new hearing, and you fit the profile, your monthly benefits are reinstated. You win the hearing, you get your backpay."
"If you lost your benefits, then filed a new claim and lost, you're not eligible. There is another route to help you though" Pillersdorf said. "Today, in federal court in London, I filed the Sexton litigation."
That litigation alleges that the SSA waited too long to initiate the hearings.
"The first shot the SSA fired at you all was Memorial day, 2015 — nine years after the whistle blowers reported Conn and seven years after the chief judge of the SSA was taking bribes from Conn" Pillersdorf said.
Pillersdorf said there will probably be anywhere from 200-400 people making claims.
"Do not represent yourself," Pillersdorf said. "The AppleRed team has been heroic, and they will be the clearing house. If you want representation, call AppleRed and they will place you with a lawyer."
Rocky Adkins, a senior advisor of Governor Beshear, then spoke a few words. "I'm here today not only as the voice of Governor Beshear, but as Rocky Adkins' voice. This has been a team effort and Ned has stayed in close contact with our office. I hope you all have seen through the global pandemic and flooding, that we have a governor who is compassionate and cares for people. We are on the people's side, and we stand with you. When we see our people done wrong we step forward, we engage and we find a way to help. We are going to work together to make sure people's rights and benefits are restored" he said.
Danielle Smoot, from Congressman Hal Rogers office, spoke as well.
"Even though you all are being called the Forgotten 500, I promise you Congressman Rogers has never forgotten a single one of you" she said. "We have listened to your phone calls, some of them an hour long, pouring your hearts out. Congressman Rogers has turned around and made those same exact phone calls to the SSA, saying my people need help. We are here for you, and we haven't forgotten about you."
Pillersdorf urged the attendees to take action.
"When you get those notices in the mail, fill them out," Ned Pillersdorf said. "It's not a day for victory: I'll never get over the suicides and the agony. I think I said in the documentary I felt like I was running a suicide hotline. If there are still folks out there worried and concerned, there's a light at the end of the tunnel. Folks, this is the best day we have had in seven and a half years."