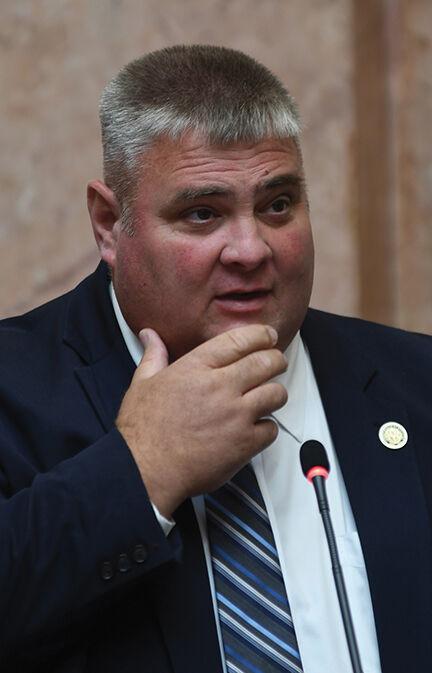 Rep. Chris Fugate of Chavies will serve on the Appropriations and Revenue, Natural Resources and Energy, Tourism and Outdoor Recreation, and Veterans, Military Affairs, and Public Safety committees, according to an announcement from the office of House Speaker David Osborne.
"I am both humbled and honored to be appointed to these committees," said Fugate. "I appreciate leadership trusting me with these important responsibilities and putting me in a position to use my experience to improve the commonwealth and make Kentucky the best place to live, work and grow a family. As a former state trooper, I know and appreciate the sacrifices our service members make in the name of liberty. I look forward to showing my appreciation and giving back to them in this new way."
Members of the House Appropriations and Revenue Committee and its budget review subcommittees fulfill the legislature's only constitutional obligation – crafting budgets for the state's executive, judicial and legislative branches, the statement said. The committee also levies state taxes and sets state tax policy. Members also deal with audits performed for state purposes.
Members of the House Natural Resources and Energy Committee, the statement said, oversee state policies that deal with Kentucky's natural resources. These include forestry, mining, soil and water conservation, flood control, water usage and quality, oil, gas,and salt water wells. The committee also considers legislation that addresses the state's energy supplies — including electric and gas utilities and cooperatives, hydroelectric and thermonuclear energy, coal, solar and renewable energy and other alternative fuels. Members are also responsible for setting policies for the Public Service Commission.
House Tourism and Outdoor Recreation members oversee legislation that deals with tourism, travel promotion, fish and wildlife, hunting and fishing, boating, and horseback riding.  The committee also addresses issues like laws that apply to billboards, recreational land use, and all-terrain vehicles.
As a member of the House Veterans, Military Affairs and Public Safety Committee, Fugate will consider legislation that deals with the state's active duty and retired military constituents, as well as fire prevention and protection; food, drugs, and poisons; and public safety.
Fugate's committee membership comes on the heels of his recent appointment as the new chair of the Budget Review Subcommittee on Economic Development, Public Protection, Tourismand Energy, where he will play a key role in shaping the state's next budget relating to the matter.
"Committee assignments are always a difficult task, but more so this year because we have an exceptional class of first-term legislators as well as the veteran lawmakers who have proven experience shaping good long-term public policy," Osborne added. "The House Majority Caucus remains committed to making this state the best place to live and work. This session we will continue our efforts to lower taxes, look for ways to help Kentuckians and the state navigate record inflation, and continue fighting to protect the values that define our commonwealth."
The 2023 Regular Session convened on Tuesday, Jan. 3 and legislators will meet for 30 legislative days before adjourning by March 30. Kentuckians can keep up to date with legislative activity by visiting, legislature.ky.gov, or following, @KYHouseGOP, on Facebook, Twitter and most major social media outlets.