Brain Health
The big picture: Dr. Adriana Davis says "Yes, you can reduce your risk of getting dementia."
In the news: New research shows that people who have problems walking while talking or thinking could be at a higher risk of impending dementia.
The key point: The research points to the idea that if someone is not able to perform two tasks "dual-tasks" simultaneously this could be interpreted as a sign of future cognitive decline. This usually applies to people who are 65 years or older.
The new research is showing that the inability to do simultaneous tasks, "dual-tasks," may actually start earlier in middle age. A decline in dual-task skills can uncover early age-related changes in the brain.
Did you know that 76.1% of the adults living in Warren County went to the doctor for a routine checkup in the last year? 25.3% of the adults in Warren County have depression.
Looking to improve your health?
Doctor's Insight about Dementia and your Brain Health
Know this: "We can target cognitive function and reduce dementia risk in later life. For example, I tell my patients that it's very important that they keep their minds fresh by learning and interacting with new things. Plenty of research shows that if someone engages in social activities, picks up new skills like dancing, brushes their teeth with their non-dominant hand, and otherwise keeps their mind engaged, that person can reduce the risks of getting dementia later in life! So go out and be social and try new things!" Dr. Puja Uppal, Family Medicine.
Next steps: If you're 65 and older, you should know that your medical insurance may offer you a free gym membership. Ask them about it!
Further steps: If you're unable to go to a gym near your home in Warren County, you can get access to free online classes through programs like "Silver Sneakers." (Visit Here)
Living in Kentucky, it's important for you to understand that getting dementia is not an expected trait of getting older.
Did you know that more than 7,000,000 Americans 65 years and older have dementia?
You can decrease the chances of getting dementia. You're not alone. Talk to your healthcare team!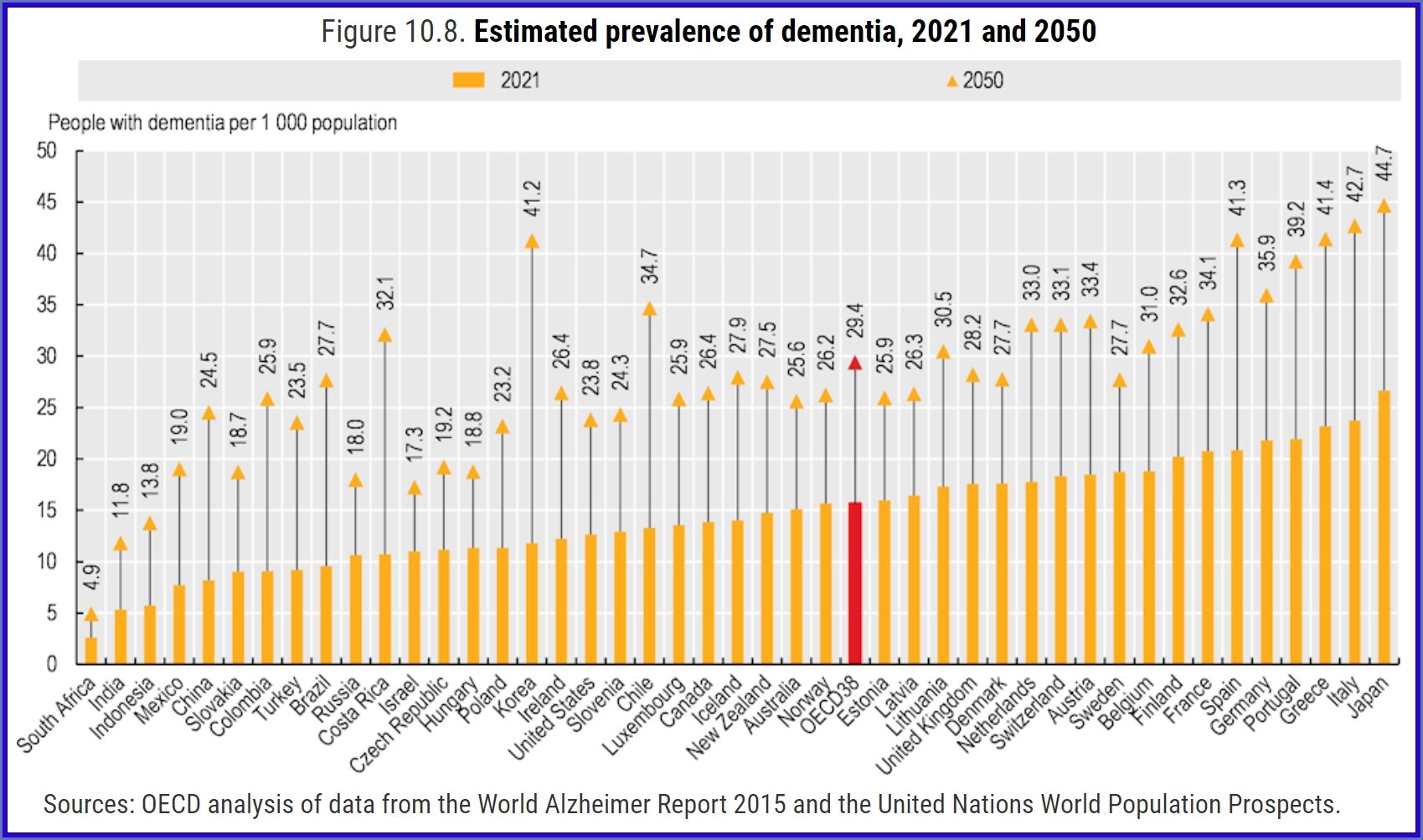 Chart courtesy: OECD Data Library.
In Warren County, 12.6% of the adults reported not being in good physical health. In 2020, there were 1719 deaths from Alzheimer's Disease and other forms of dementia in Kentucky.
What they're saying:
"Our results suggest that in middle age, poor dual-task walking performance might be an indicator of accelerated brain aging or an otherwise pre-symptomatic neurodegenerative condition..." Junhong Zhou, Ph.D.
"...we observed that a portion of participants over the age of 60 years who performed the dual-task test as well as participants aged 50, or even younger. This means that dual-task walking performance does not necessarily decline as we get older, and that some individuals appear more resistant to the effects of aging. We hope that our study will spur future research attempts to discover lifestyle and other modifiable factors that support the maintenance of dual-task performance into old age, as well as interventions that target these factors" (Interview Source)
Estimated dementia incidence rate among older people in the United States as of 2015, by age group (per 1,000 population)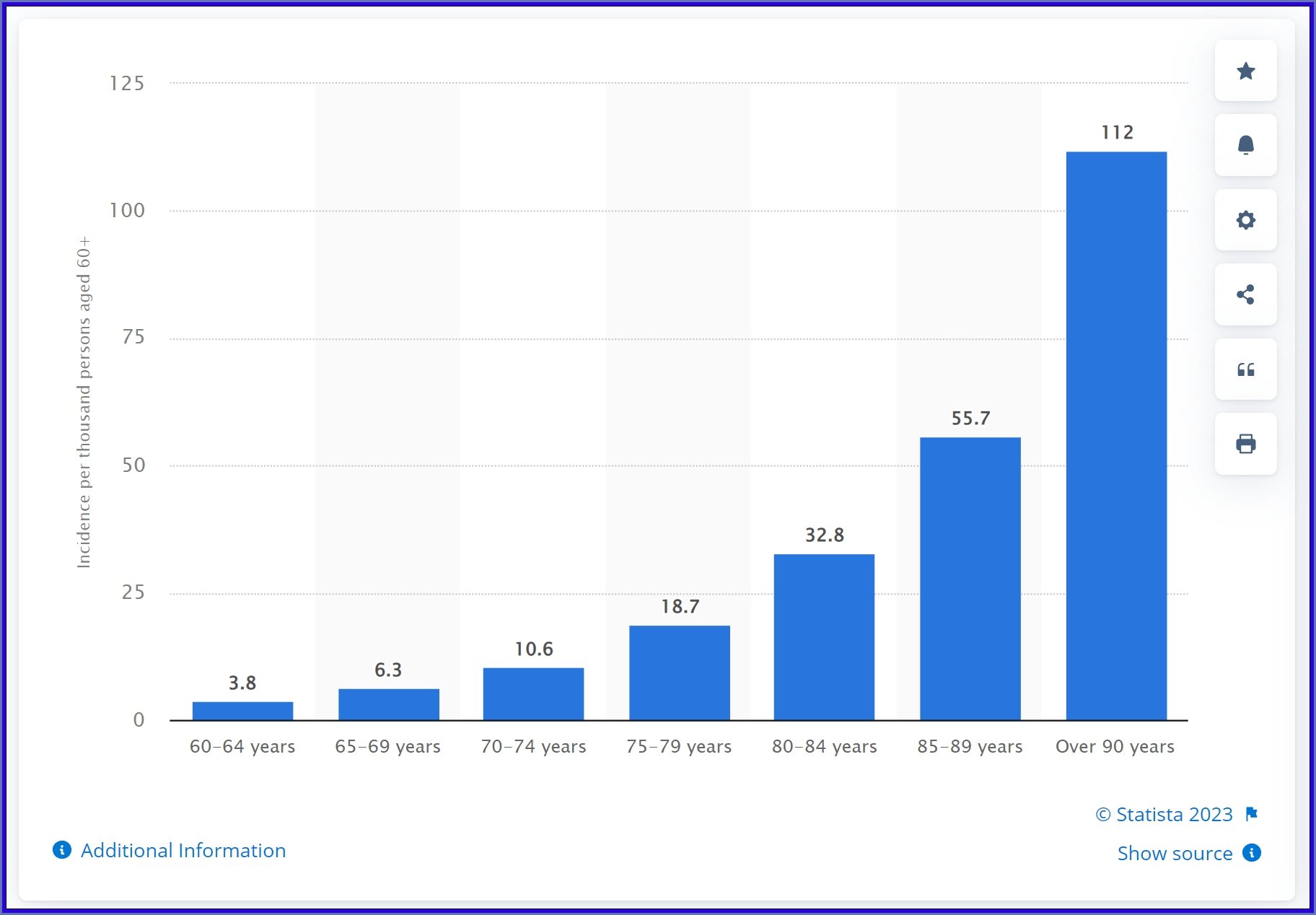 Image: Statista State of Health
Source:
The Lancet published the paper: The age-related contribution of cognitive function to dual-task gait in middle-aged adults in Spain: observations from a population-based study (Read it Here)
Dementia Stats: (CDC)
Depression and Dementia are NOT parts of normal aging.
Among the 10 leading causes of death, Alzheimer's disease is expected to grow the sharpest in the next decade.
More than 9 Million Americans could have dementia by 2030.
States in the South and West will see the largest rises in dementia over the next decade.
17.5% of Warren County adults report that they're not in good mental health.
The Health Standard Newswire