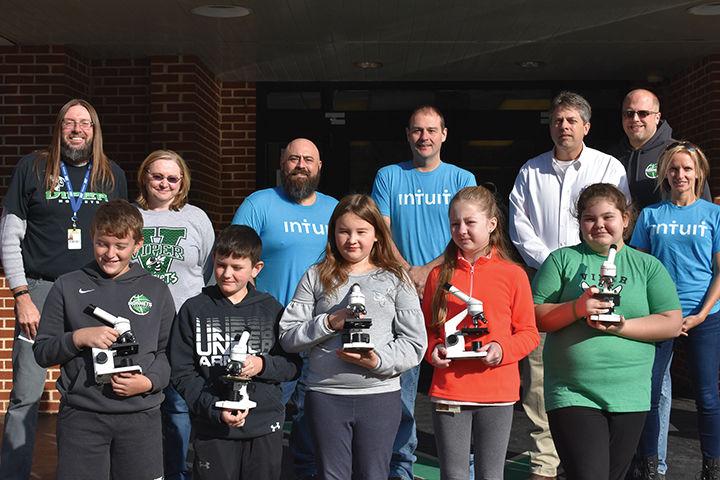 Last week, SYKES and Intuit employees donated microscopes to a local school as part of the "SYKES Gives Back" initiative. SYKES employees said they live by their purpose of helping people one caring interaction at a time. Not only do employees do this in their work each day, said SYKES representatives, but the company loves finding ways to help the communities where their employees work and live through the initiative.
On Friday, Nov. 15, Perry County-Judge Executive Scott Alexander and three representatives from SYKES/Intuit visited Viper Elementary School to speak to students and staff about community support and to deliver 30 microscopes, which will equip the school's science laboratory. The donation will give more than 175 third through eighth grade students regular access to microscopes. The microscopes, school officials said, are especially important for the fourth and seventh grade students, whose state testing includes microscope specific questions.  
During the donation visit, Alexander thanked the SYKES and Intuit representatives and spoke to the Viper students.
"Someday when you all grow up and graduate, if you want to stay here, companies like this will be the chance that you have to stay here and work," said Alexander. "Not only do they (SYKES/Intuit) provide jobs, they're a great community partner."
"When we reached out to the school a few weeks ago to see if they had any immediate needs or items on their wish list, without hesitation they told us they needed microscopes," said SYKES site director Glenn Pendergrass. "We placed the order later that week."
The school's staff said they were thankful for the donation and for the community support shown by SYKES and Intuit.
"This means the world to us," said Viper Principal Kent Campbell. "The teachers were wanting microscopes and the students were wanting microscopes, so we looked in our funds but we've already spent most of our funds for the school year."
SYKES employees said they feel privileged to be able to give back to the area in such a meaningful way.  
"Several of our employees have children who attend Viper Elementary, and one of our employee's mother is even a teacher there, so this is very personal to us," said Rachel Davis, a recruiter at SYKES.  
Pendergrass, along with Davis and Intuit/SYKES Account Manager Gary Schweit, said the company was excited to see how the students will benefit from the donation.
"This is great, (they're) going to build us some leaders," said Pendergrass, stating that with the new equipment, the teachers will be able to further help the students broaden their education. "When we announced our partnership with Intuit earlier this year, we also committed to investing in the community in ways beyond providing job opportunities. Together, we want to see the Hazard area grow and prosper. SYKES and Intuit are proud to be part of the Hazard community and we wish all the best to the Viper Elementary School students."