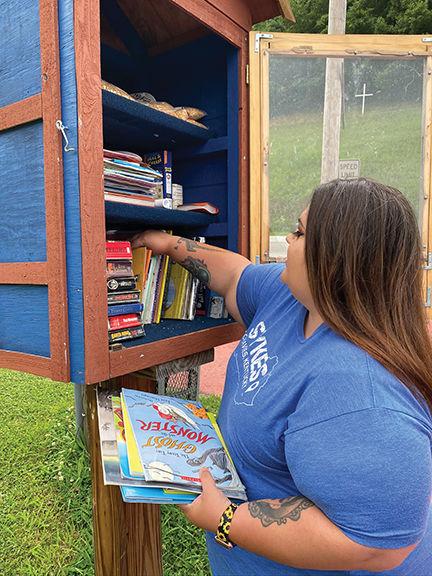 Last week, SYKES representatives delivered hundreds of donated books to each Free Little Library location in Perry County. The donated books, said SYKES officials, were obtained through an employee book drive.
"When we got Intuit as a client at SYKES, one of the things they're really big on is small businesses," said  Jenna Stacy, a quality analyst at SYKES. The company, she said, wanted to think of ways and events to help some locally owned small businesses, and one of the ideas was to have a book drive.
This book drive, she said, started in March and was only supposed to last a month, but because of the COVID-19 pandemic, the company decided they would hold the drive a little longer. During that time, Stacy said, employees donated books, and whoever donated the most books will receive a gift card to the Read Spotted Newt bookstore. The book drive ended June 25 and the books were delivered to the Free Little Library locations on Saturday, June 27. Each of the books were sanitized and cleaned all the books before donating them, Stacy said.
Stacy said the book drive turned out really well, and that they were not expecting to collect that many books.
"We actually filled up all of them (Free Little Library locations)," said Stacy. Even after filling up each location, she said, the company still has a few books left, so they will add them to the Free Little Library locations once some are emptied.
"We could not fit any more books in there at all," she said. "We had hundreds and hundreds of books."
 Due to the success of the book drive, Stacy said, the company does plan to hold the event again next year.
"For me, it's really important to have access to books. Not everybody can make it to the library," said Stacy. Reading, she said, is very important for children for many reasons.
"When I was little, that's what I depended on," she said. "It's really important for early childhood development and we wanted the kids to have something to do, initially during the summer and then through COVID-19."
The Free Little Libraries can be found at East Perry Elementary School, Kentucky State Police Post 13, the Perry County Health Department, the Bobby Davis Park, the Hazard Vendors Mall and the Perry County Park.