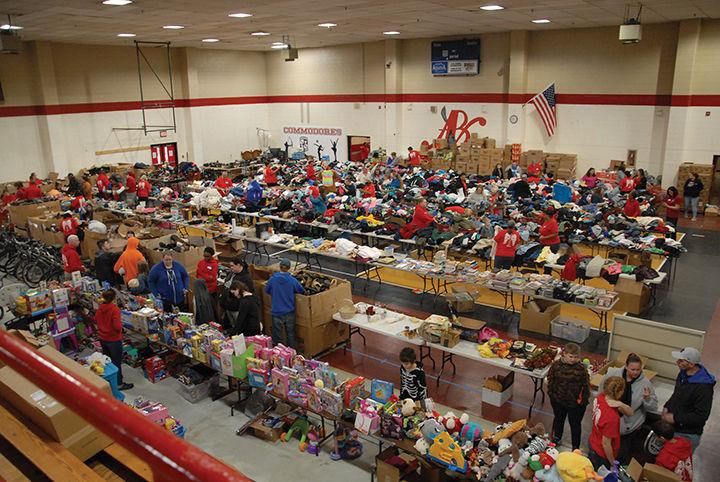 On Saturday, Dec. 7, families from all across southeast Kentucky gathered at A.B. Combs Elementary School for the Love Project. The Love Project is a yearly effort by Dr. Jeremy Mays, his wife, Niki Mays and Healing Waters Ministry in Erin, Tennessee, of which Jeremy Mays is the president. This year, Healing Waters Ministry partnered with the Perry County Ministerial Fellowship to bring the Love Project to Perry County.
Niki Mays said that the Love Project has been helping people for nearly a decade and was built on serving the community.
"The Love Project was something that started nine years ago," Niki Mays said. "It started with me answering the Lord with a question and that was this: 'Why can't we do this?,'" said Mays, "There was a ministry that was giving away coats and blankets for their Christmas season and I asked the Lord, 'Why can't we do this?'"
Niki Mays added that the program has grown and been able to help more people over those 9 years.
"We had 25 dollars to our name when we started the first one and now our budget has grown to $25,000 from one day," she said.
During the giveaway in Perry County, the Love Project served everyone with a proof of address and participants were limited to one trip per address. Items available included clothes, shoes, coats, toys, food and more. The donations available filled the gymnasium at A.B. Combs Elementary.
"In that room there's over 50 churches through donations of volunteers," said Niki Mays. "Everybody who walks in the building gets a new pair of shoes."
Jeremy Mays said that he and his group were happy to offer help to the people of this region.
"I'm just here to be a blessing to people in need, a lot of folks were wanting to get their kids Christmas gifts but couldn't afford to do it," he said. "We bring the physical material in just to show them the love of God, to show them they aren't hopeless, they haven't been forgotten and that God wants to met their needs.
"No matter how hopeless it may look right now hang in there and trust God, he's ready and willing to turn things around for you," he said.