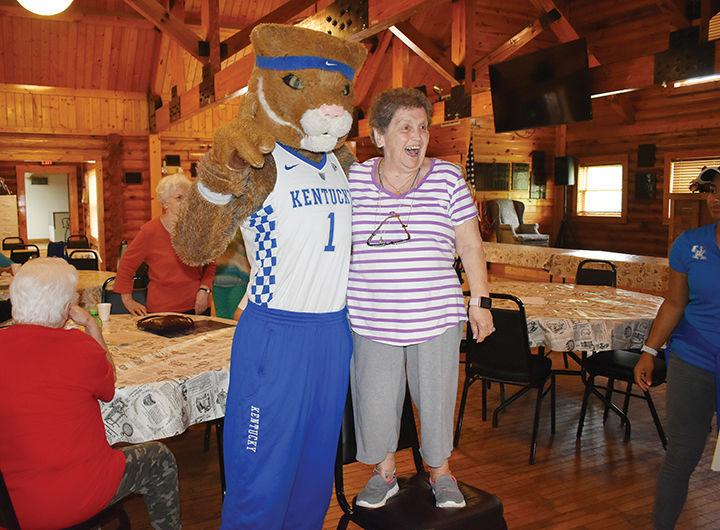 The Big Blue Caravan, led by UK Athletics director Mitch Barnhart, is the University of Kentucky's Athletics program's annual outreach effort throughout the state the athletics department represents.
This year, the Caravan included a department-sponsored service trip to Eastern Kentucky.
The trip to Eastern Kentucky included a two-day stop in Perry County.
"We brought out some of our staff members and some of our coaches yesterday (June 25) and we went through a coal mine here in Leatherwood," said Barnhart. "Then we had the chance to go to different places around the community."
On June 24 the caravan met with first responders and some of the people from Perry County at Hazard City Hall and a visited local hospital later that day.
"We had the opportunity to go to the hospital and visit with most of the staff and workers there," said Barnhart. The caravan continued its visits in Hazard on June 25.
"This morning we visited the veterans hospital and spent some time over there," said Barnhart. They also spent time at the senior citizens center and summer feeding programs.
Barnhart said that events like the caravan gives UK the opportunity to give back to Eastern Kentucky fans who support university and the athletics program.
"We enjoy it, it's where our fans are, the true hard blue and white Kentucky fans are here, they love the cats," said Barnhart. "So, it's an honor to come and spend time with them, to be able to go down into the coal mine was really special." B
arnhart said seeing the hard work Eastern Kentucky miners do was a great experience.
"I know it's incredibly hard work and what they do is amazing, I know it's dangerous at times and they have to be really mindful and thoughtful of safety," said Barnhart. "To see how hard they work to support their families and the things that we do in our state is really important."
The Big Blue Caravan brought their mascot, trophies and posters and items to give to fans who have supported the University of Kentucky over the years. Barnhart said that showing the fans appreciation for their support was the main goal of the caravan.