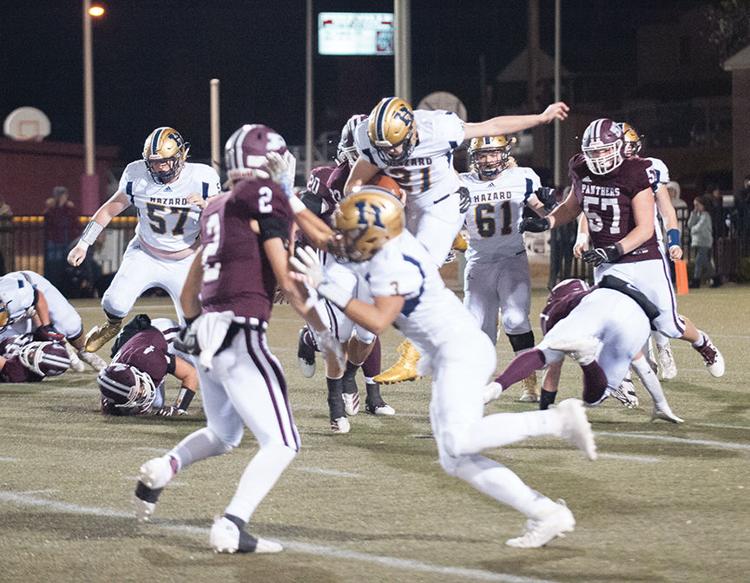 The 2019 football season has come to an end.
This season, the Appalachian Newspapers' coverage area had three state champions and a runner-up finish.
With such a great season, this year's awards were a bit harder to select.
Here are the awards for the Appalachian Newspapers. We had reporters voting from the Appalachian News-Express, Floyd Chronicle and Times, Paintsville Herald, Hazard Herald and the Unwired Appalachia podcast.
Pikeville's Jackson Hensley: Dynamic. That's the word that describes Hensley on the field. His speed is a game changer and he is a threat to score every time he touches the ball. Hensley had two catches in the Class A state championship and finished with 79 yards and two TDs. On the season, he had 49 receptions for 809 yards and 12 TDs. He added 206 yards rushing and a TD on 26 carries. He scored TDs rushing, receiving, on a fumble recovery, a punt return for a TD and a kickoff return for a TD.
On defense, he had 69 tackles and two interceptions.
Hensley has committed to playing college football at Harvard.
Pikeville's Isaac McNamee: McNamee was the runner-up in for the All-Mountain Player of the Year as Hensley had three first-place votes to McNamee's two.
As a sophomore, McNamee emerged as the Mountain's top QB and one of the top QBs in the state.
McNamee helped lead the Panthers to a perfect 14-0 record and the Class A state championship in his first season as starting QB. He finished the state title game 12 for 20 passing for 210 yards and three TDs. He finished the season 148 for 228 passing for 2,464 yards and 32 TDs with only six interceptions.
Johnson Central's Ryley Preece: Preece is a winner. Preece was the starting QB for the Golden Eagles during his freshman season when Johnson Central won its first-ever state championship. He bookended his career with a state championship in his final season with the Golden Eagles. Preece finished his career with two state championships and two runner-ups. He played in the state championship all four years of his career.
Preece was 50 for 70 passing for 1,223 yards passing and 18 TDs with only two interceptions on the season. He was third on the team in rushing with 679 yards and 14 TDs on 77 carries.
On defense, Preece led the Golden Eagles with four interceptions and he returned two of those for TDs. He also had 19 total tackles.
Tug Valley's Ethan Varney: Varney set West Virginia on fire this season. Varney was 133 for 240 passing for 2,169 yards and 30 TDs with 11 interceptions. He also rushed for 689 yards and eight TDs. He caught four passes for 66 yards as well.
On defense, he had 24 total tackles with six interceptions; he returned one of those interceptions for a 73-yard TD.
Varney had never played QB until this season, his senior year.
Johnson Central's Devin Johnson: Johnson can do it all on the field. He plays with speed and power at two of the most important positions on the field; the running back spot on offense and the linebacker spot on defense.
on offense, Johnson rushed for 1,668 yards and 21 TDs on 141 carries. A lot of the time, Johnson only played a half or three quarters because the Golden Eagles had big leads and pulled its starters.
On defense, Johnson finished with 91 total tackles and five sacks. He is quick and hits hard.
Johnson has signed a national letter of intent to play college football at Youngstown State.
Position    Name        School
OL    Peyton Blackburn    Shelby Valley
OL    Andrew Clifton    Johnson Central
OL    Grant Bingham    Johnson Central
OL    Owen LeMaster    Johnson Central
OL    Ethan Wolford    Belfry
QB    Isaac McNamee    Pikeville
RB    Isaac Dixon    Belfry
RB    Cody Raines    Pikeville
RB    John Walker Phelps    Paintsville
RB    Matt Anderson    Pike Central
WR    Drew Hatfield    Mingo Central
WR    Seth Dalton    Johnson Central
WR    Keegan Bentley    Pike Central
WR    Karsten Poe    Paintsville
TE    Zach Russell    Johnson Central
Ath    Ethan Varney    Tug Valley
Ath    Ryley Preece    Johnson Central
Ath    Dalton Meade    Shelby Valey
K    Jake Headly    Johnson Central
DL    Grayson Cook    Belfry
DL    Devin Johnson    Johnson Central
DL    Jaylyn Allen    Paintsville
DL    Nate Roberts    Pike Central
LB    Jon Collum    Pikeville
LB    Seth Mounts    Belfry
LB    Hunter McCloud    Johnson Central
LB    Reece Fletcher    Hazard
LB    Kaden Caudill    Pikeville
CB    Isaiah Birchfield    Belfry
CB    Peyton Boyd-Blair    Pikeville
CB    Cody Rice    Johnson Central
CB    Devin Hall    Paintsville