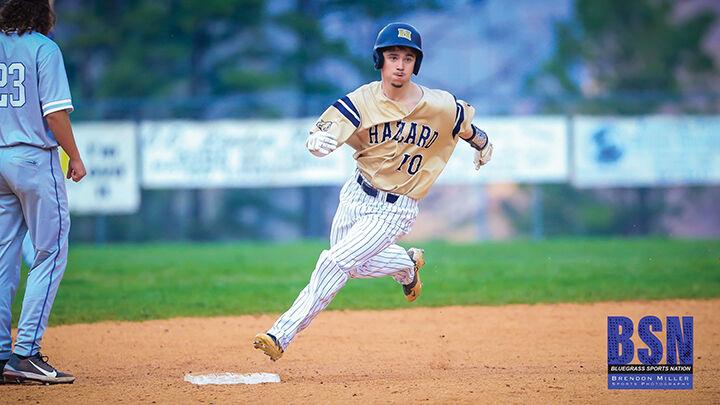 Hazard was held scoreless until its final at-bat as home standing Knott Central prevailed 7-1 in the 14th Region All "A" Classic on Monday, April 12.
The Bulldogs lost despite outhitting Knott Central 9-6. However, Hazard committed five errors.
Knott Central set the tone early, pushing across three runs in the bottom half of the first inning.
The Patriots thrived during their first three at-bats. Knott Central led 7-0 at the conclusion of the third inning.
Kent Damron earned the win on the mound for the Patriots. Damron pitched a complete game allowing nine hits and one run while striking out nine and walking none over seven innings.
Hazard hurler David Mullins suffered the pitching loss. Mullins pitched one-third of an inning, allowing three runs on one hit and striking out one.
Caleb Justice collected two hits for Knott Central. John Kunkel, one of four Knott Central players to provide one hit, drove in two runs for the Patriots.
Andrew Ford, Samuel Shoptaw and Max Johnson paced Hazard at the plate, providing two hits apiece. Ford drove in one run for the Bulldogs.
Hazard is scheduled to host Knott Central on May 3.
Hazard 19,
Cordia 0
Visiting Hazard blanked Cordia 19-0 in three innings in the 14th Region All "A" Classic on Saturday, April 10.
Taking control early, Hazard erupted for a dozen runs in the top half of the first inning.
Dominant Hazard led 15-0 at the end of its second plate appearance.
Hazard hurler Matt Craft threw a complete game shutout to lead the Bulldogs to the win. Craft allowed one hit and zero runs while striking out six and walking one as he claimed the pitching win.
Cordia pitcher Donavan Stidham suffered the loss. Stidham pitched three innings, allowing 19 runs on 12 hits and striking out eight.
Hazard plated 19 runs on 12 hits and committed only one error.
Hank Pelfrey and Samuel Shoptaw each collected multiple hits for the Bulldogs. Pelfrey paced Hazard at the plate, finishing three for three. Both Pelfrey and Shoptaw recorded three RBIs in the Bulldogs' convincing victory.
Helping Hazard move runners around the bases, Max Johnson and Clint Davidson added one hit and two RBIs apiece.
The Bulldogs were nearly perfect in the field, committing one error.
Aiding his pitching cause at the plate, Stidham connected for Cordia's only hit.
Defensively, Cordia committed four errors.