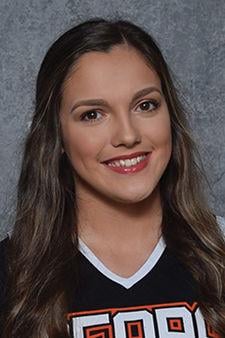 Junior Morgyn Dixon was named the UPike Cheer MVP during the 2020 University of Pikeville Bear Awards in Monday, April 20.
The annual awards were announced via Facebook.
A Perry Central High School graduate from Hazard, Dixon excelled on and off the sidelines throughout the 2019/2020 school year.
Dixon helped to lead UPike to the Mid-South Conference cheerleading championship. In February, UPike claimed its fourth overall conference championship and the program's first title since 2016.
Pikeville won the conference team title with a final score of 85.03, 1.06 ahead of second-place Cumberlands.
The team competition was not the only title that UPike picked up as the Bears also claimed the gameday competition championship with 30.2 points. Nearly capturing a third championship, Pikeville finished second in the all-girl stunt category.
Dixon, Madison Campbell and Ashlie Eldridge represented UPike as First Team All-Mid-South Conference honorees.
Prior to earning the conference crown, UPike finished third at UCA Open All Girl Division National Championships earlier in the year.