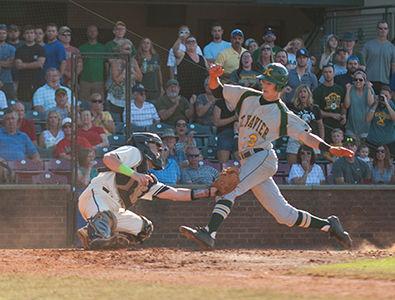 LEXINGTON — The challenge doesn't get any bigger than what Hazard faced Friday evening in the Whitaker Bank/KHSAA State Baseball Tournament semifinals.
St. Xavier came into the game ranked No. 1 in the state and No. 8 nationally.
Hazard fought hard, but fell to the Tigers 3-0.
St. X went on to win the state championship with a 10-6 win over Highlands in the title game.
One mistake in the top of the sixth led to St. X grabbing the lead.
The game was scoreless with two outs in the the top of the sixth inning. That's when St. X's Cameron Scheler hit a fly ball to center. Hazard center fielder Kyle Johnson appeared to have the ball in sights, but he lost the ball in the sun and Scheler stretched the fly ball into a double.
That opened the door for the Tigers. Andrew Littlefield followed with an RBI single to score the game's first run. St. X pitcher Ryan Nicholson followed with an RBI single to help his cause and give the Tigers a 2-0 lead.
The final run of the game came in the top of the seventh inning. St. X's Alexander Adams blasted a home run to left field to push the lead to 3-0 and set the game's final score.
Hazard finished the season with a 26-10 record. The Bulldogs won the 14th Region All "A" Classic, finished as All "A" Classic state tournament runners-up, won the 14th Region championship and advanced to the Final Four.
St. X pitcher Nicholson got the win on the mound. Nicholson threw all seven innings and only gave up two hits and one walk, while striking out five batters in the shutout. 
Hazard pitcher Devin Morris threw a gem as well. Morris threw a complete game and gave up three runs on seven hits, while striking out seven and walking two.
Morris and Garrett Miller had the Bulldogs' only two hits on the evening. 
Trajon Campbell also reached by walking for the Bulldogs. 
Neither team committed an error during the game.
Hazard's defense came up big in the top of the fourth inning. St. X's Tyler Sweeney hit a leadoff single. Littlefield followed with a drive into the right field gap. Sweeney headed for home. Hazard right fielder Trajon Campbell fired the throw to shortstop Andy Baker, Baker rifled the throw to the plate where catcher Dalton Baker tagged Sweeney out at the plate to prevent St. X from taking the lead. Littlefield tripled on the play. Morris got out of the inning by striking out Nicholson.
Hazard will only graduate two seniors from this year's team. Morris and Bryson Parks were the only two seniors. 
The Bulldogs will return the majority of their roster next season.