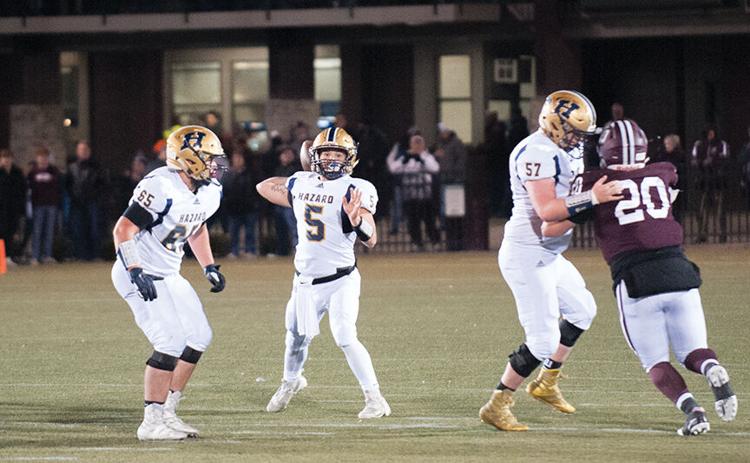 Just days after one Hazard athlete tested positive for COVID-19, nine football players and an assistant coach did as well.
Hazard head coach and the rest of the staff called off workouts for a two week period until it is safe for the rest of the team and those players and assistants to resume workouts.
"We were in compliance with the CDC and local health departments," Hazard football coach Dan Howard said. "Once we got those positive test results, we complied with the regulations and we met with the Hazard Health Department and followed all the correct procedures from there.
"Before the outbreak, we followed all the guidelines and we wiped everything down, we wore masks and practiced social distancing. We don't know how it occurred, but once it did, we took immediate action."
The KHSAA delayed full practices of the fall season until August 3. The KHSAA will meet again July 28 to announce plans for the fall sports season.
"Before we resume, we will have to have a written statement that all of who have tested positive are negative before we resume again," Howard said. "One of the the funny things is that out of the players who tested positive, only one had a temperature and that was the only symptom that they had. Their families have been tested and so far, they have all come back negative. It's just a strange situation, but we are doing everything that we are supposed to do. I have been tested and was negative as well. We are just waiting for our guys to get better."
There was a rumor that Hazard football would not be participating in football this fall.
That rumor was false.
"We planning on playing," Howard said. "We want fall sports to come back. Once everything has run its course, we plan on playing, though."
Hazard football will resume workouts once doctors say players are cleared.
Hazard is scheduled to play Breathitt County in the season opener August 21 at 7:30 p.m. on the road at Breathitt County.