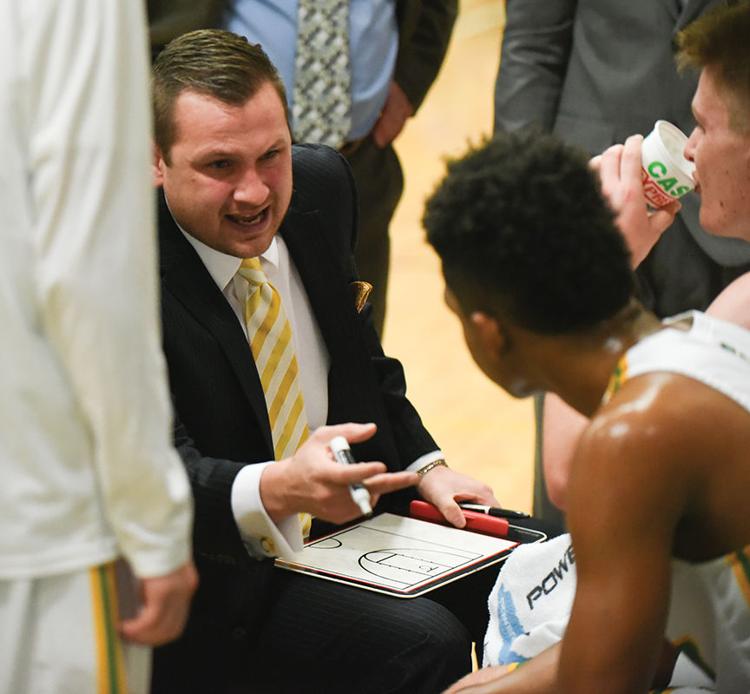 Pike Central announced Robert Amis as its new coach earlier this spring.
Amis is excited about the new opportunity ahead.
"I got a phone call from someone in Pike County telling me the job was open and that I should apply right around the time this pandemic started," Amis said. "I don't think that there is going to be many jobs opening, especially at the college level, but when I got word about a job like this, I was surprised. I'm from Hazard and have been familiar with 15th Region basketball my whole life. I called and talked the officials at Pike Central and it seemed like a great fit. It was a great opportunity and I'm ready to get started as soon as possible."
Amis grew up in Hazard and graduated from Perry Central and went on to play at U. Va.- Wise.
"My father coached at Buckhorn and was superintendent of the Perry County Schools," Amis said. "I guess some might say that is a pedigree if that's what you wanna call it. I spent half of my coaching career in college in Texas and Florida. I was at Marshall and bounced around. Everywhere I went, I left the program in better shape than it was when I got there and then I'm sure you've read about what happened at Greenup County, but I'm excited to be here and be a part of the history of 15th Region basketball. There have been some great teams from this region over the years."
Last season at Greenup County, Amis led the Muskateers to a 21-9 record before he was suspended before the end of the season. The suspension was due to a claim that Amis played an ineligible player, but he claimed the player was ruled eligible by the KHSAA.
Amis was head coach at Greenup County the last two seasons and was at Breathitt County two seasons before that.
In his two seasons at Greenup County, he went 11-19 his first season and helped the Muskateers improve to a 21-9 record this season. He coached Breathitt County for two seasons before that. His first season at Breatitt County (2015/2016) he helped lead the Bobcats to a 20-14 record and followed with an 18-15 record in his second season.
In four years as high school head coach he has accumulated a 70-57 record.
"I think there is a magic formula to come in and improve a team," Amis said. "I'm a 33-year old single man. I just come in and work. Breathitt County won 20 games in my first season and we reached the region semifinals. Not to brag, but everywhere I've went, the teams have done better than before I got there. This year, I thought we could challenge Ashland and Boyd County, but unfortunately, we didn't get a chance to see if we could."
Pike Central finished with an 8-21 record this season. The Hawks missed the 15th Region Tournament this season.
The Hawks lose two seniors from its roster.
"I don't know a ton about the roster and the players right now," Amis said. "I know the Bryce Adkins kid is probably the top returning player. I hear we have a great eighth-grade player in the system. I've played eighth-graders in the past, so playing young guys isn't anything new to me. I just wanna build something special there and I don't see any reason that we can't. I think we can be right there with the Johnson Central's, the Martin County's and Pikeville's of the region."
Amis is somewhat familiar with Pike Central.
"When I was at Breathitt County, we came and played in the UPike camp and we played at Pike Central, so I am familiar with the gym," Amis said. "I am friends with Ryan Whitaker and so I had a familiarity with the program."
With the COVID-19 outbreak, Amis hasn't got to meet his players yet.
"I'll eventually reach out and call or text or whatever with the guys," Amis said. "I have to come up and meet with the AD (Eugene Lyons) and work on the scheduling and everything. This is the craziest time in my lifetime. I remember 9/11 when I was in middle school, but this is certainly crazier."