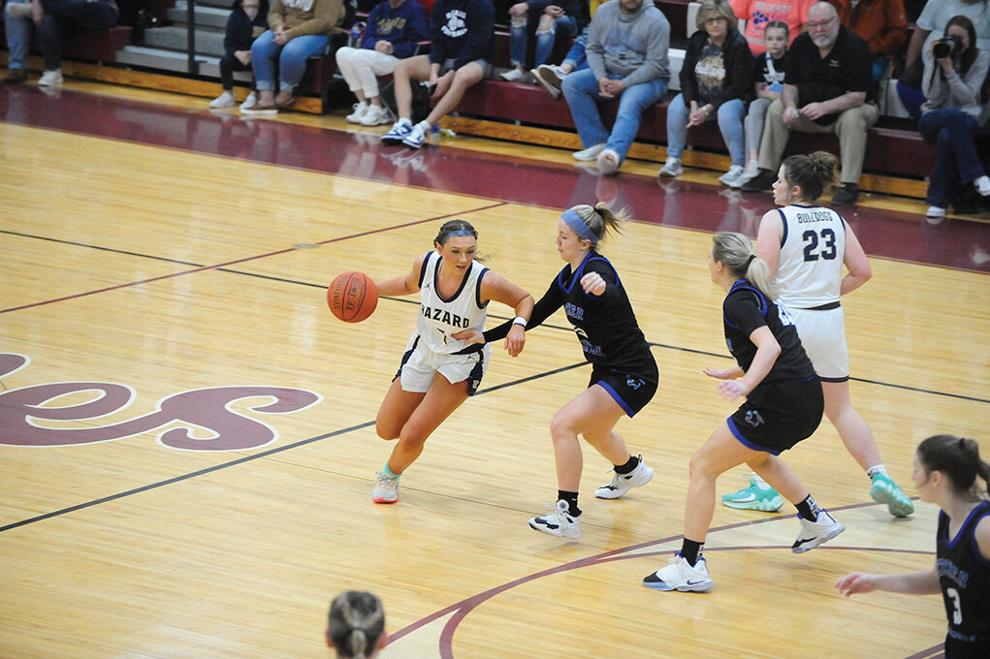 HYDEN — Hazard's postseason run ended in the 14th Region Girls' Basketball Tournament Semifinals as Letcher Central pulled away to win 70-37 at the Richard M. Nixon Recreation Center on Saturday, March 4.
Letcher Central took control of the postseason matchup early, outscoring Hazard 15-8 in the first quarter.
Stretching its lead after the initial quarter, Letcher County Central led 41-18 at halftime.
Adding to its lead after the intermission period, Letcher Central led 60-24 at the end of the third quarter.
Letcher Central shot 53.8 percent (28 of 52) from the field. The Lady Cougars connected on six of 15 three-point field goal attempts, shooting 40 percent from three-point range.
Letcher Central shot 61.5 percent (eight of 13) from the free-throw line.
Kiera Couch scored 21 points to lead Letcher Central to the win. Couch shot 100 percent (eight of eight) from inside the arc.
Accompanying Couch in double figures for Letcher Central, Kara Holcomb netted 19 points.
Narrowly missing double figures in scoring for the Lady Cougars, Jaylin Whitt and Payge Damron each posted nine points.
Eight different players provided scoring for Letcher Central in the region tournament game. The other scorers for Letcher Central were Heidi Bentley (six points), Kaylee Baker (two points), Emma Pavlik (two points) and Alli Bailey (two points).
Abby Maggard scored a team-high 11 points to pace Hazard in the region tournament game.
Narrowly missing double figures for Hazard, Autumn Ramey netted nine points.
Following Ramey in Hazard's scoring column, Maddi Frohnapfel (seven points), Hannah Caudill (six points), Brooklynn Cornett (two points) and Mikayla Shepherd (two points) contributed offensively for the Lady Bulldogs.
Much-improved Hazard, under the direction of first-year head coach Todd Howard, exited the 2022-23 girls' high school basketball season 16-15.