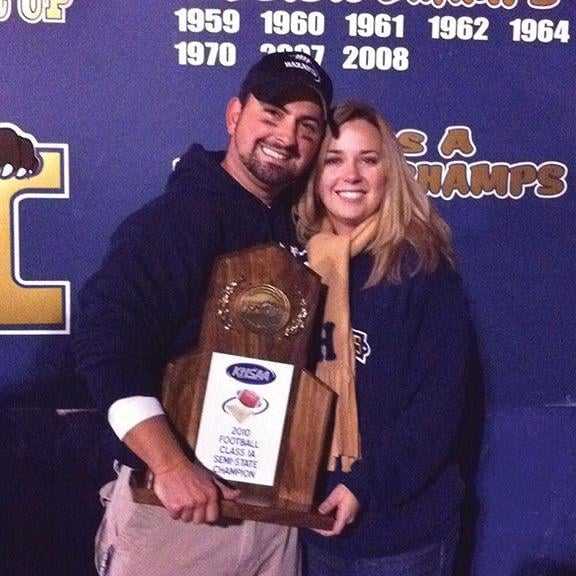 Hazard didn't have to look to far to find a new coach.
After Scott Grizzle resigned before ever coaching a game for the Bulldogs, Hazard hired longtime assistant coach Dan Howard to be the new head football coach.
"It's an honor to take over this job because of the history and tradition here," Howard said. "This program has had state championship success and we want to get back to that level. We think we can do it with the support of the administration and community. We value academics and athletics both here at Hazard. I can't wait to get started."
Howard is the principal at Roy G. Eversole Elementary School.
He has been an assistant coach at Hazard for the past 13 seasons.
"I've known these kids since they were in the third and fourth grade," Howard said. "Of course there's going to be some kind of adjustment going from assistant to head coach, but I'm ready for that. I've got some things to teach the kids that we weren't doing before, but I'm excited and the kids are excited. We've been meeting and getting our practice in at 6:30 a.m. the last couple of mornings. The kids know what to expect from me and I know what to expect from them and it has been a good start so far."
Longtime Hazard coach Mark Dixon took a job with Perry Central at the end of last season.
That left the opening for the Bulldogs.
Dixon won a state championship in his time at Hazard and had the Bulldogs in the hunt for multiple other state championships.
"I've known coach Dixon going back to the year 2000," Howard said. "He was coaching some summer baseball and that's when I first met him. When he heard that I got the job, he called and congratulated me. He told me it's my turn to put my stamp on the program. I know that I don't have to reinvent the wheel here, but I have to put my stamp on the program and just have everybody on the same page and we'll be alright. But I learned a lot from coach Dixon. He's such a great coach and person. Just because he took the Perry Central job doesn't mean I dislike him or anybody here does. I know he made a decision that was best for him and his family and I respect that. We're still friends and I hope he does great things at Perry Central."
The Bulldogs lost a lot of senior talent from last season's team. But Hazard still has a lot of young talent returning this season.
"It is definitely going to be a challenge because we lost a lot of talent last season," Howard said. "I think we lost something like 15 or 16 seniors and that was a lot of talent. That's always tough to recover from, but we're a small school and we know those challenges. That's why we get the kids going in the program early here. From flag to third grade when they first start getting in pads, we have them working on the same thing. We just want everybody with the same mentality and it shows. But we have a lot of talented players coming back this season and we have a lot of talented young players in our middle schools. We just have to stay on the same page and keep developing talent. That's key in small schools. But our sophomore class was really talented last year and we had some really good freshman who stepped up and played. We are excited about the guys we got coming back. And once our freshman play 12 or 13 games, they've grown up a lot and are no longer freshman."
The Bulldogs moved into the same district as Pikeville a few years ago. The two programs were used to battling it out for the region championship or state semifinals in years past, but now meet in the district championship.
"We always play a tough schedule," Howard said. "In the past, Pikeville and some other teams were chasing us, but now, we're chasing them. They're the team that is on a winning streak and they have such a great coaching staff with coach McNamee. But they had three DI wide receivers last year and their quarterback (Isaac McNamee) is very talented and getting a lot of attention right now. But I think both teams respect each other and it's always a battle, but we want to be back in that state championship contention."
Howard and the Bulldogs have started working out.
Howard will have his team ready for the upcoming season.
The Bulldogs will try and make a playoff run in Howard's first season in charge.