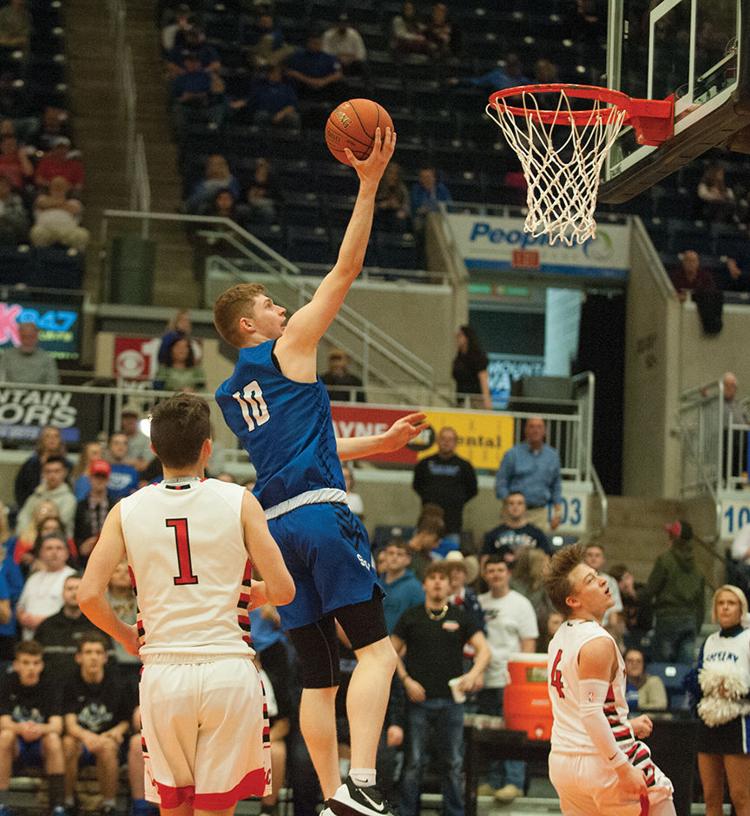 Player of the Year Nominees
Shelby Valley's Cody Potter: Potter is a shooter. He averaged 24.6 points per game and 9.9 rebounds per game this season. He 48.7 percent from the field and knocked down 40.4 percent of his three-point shots. Potter knocked down 126 of his 312 threes this season.
Paintsville's Colby Fugate: Fugate is a scorer. In the 15th Region All "A" championship, Fugate and Potter went toe-to-toe and Fugate's 34 points matched Potter's point total, but the Tigers came away with a 57-55 win. Fugate averaged 22.1 points per game as a sophomore for Paintsville. He also averaged nearly six rebounds per game.
Phelps' Trey Francis: Francis could do it all on the basketball court and did it all on the court. Francis is an all-around player. He averaged 19.3 points per game and 13.2 rebounds per contest. He helped Phelps win its second straight 60th District Tournament championship.
Tug Valley's Caleb May: May was consistent. He was one of the Panthers' top players all season. He helped lead Tug Valley to the Class A state championship. The season ended before the Panthers had a chance to play in the tournament, but Tug Valley looked poised to make a run to the title thanks to the play of May.
Shelby Valley's Keian Worrix: Worrix is a pure point guard. Worrix averaged over eight assists a game and only one turnover. That's unheard of. Worrix is usually the smallest player on the court, but he plays like he's the biggest. He has excellent ball-handling skills and is a great passer. He is an under rated scorer, but he is the definition of a pure point guard. Worrix broke the school's all-time assist record in just his junior season. He sits at No. 12 all-time in the state and has a chance to end his career in the Top 10 or maybe even the Top 5 all-time in assists.
Pikeville's Rylee Samons:    Samons was just a sophomore. He was forced to play point guard after teammate and one of the region's top point guards Laithan Hall was injured in the 15th Region All "A" Classic and had to sit out the rest of the season. Samons averaged 16.8 points per game and4.2 rebounds per game. He had some huge clutch moments in the postseason. He is poised to be one of the best players in the region and the state next season.
Shelby Valley's Cody Potter — Potter was a Mr. Basketball finalist. He finished as Shelby Valley's all-time leading scorer and rebounder. Potter has great size and athleticism, but his shooting is unparalleled. Potter shot over 40 percent from behind three his entire career at Shelby Valley.
He is committed to DII Rollins College.
Potter was selected as the unanimous All Mountain Player of the Year.