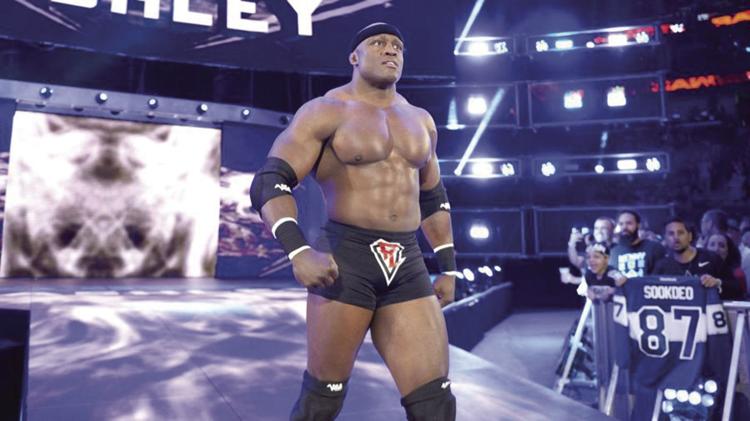 Bobby Lashley and World Wrestling Entertainment is coming back to Pikeville Sunday evening.
Lashley is looking to showcase his skills for the Pikeville crowd.
Lashley made his return to the WWE the day after Wrestlemania after a 10 year departure from the company.
"Fans should come out because it's a Monday Night Raw show and the Raw is the top show," Lashley said. "The cool thing about coming to Pikeville is that I got my start in OVW (Ohio Valley Wrestling) and Pikeville is one of the places that I started my pro wrestling career. It's kind of cool to revisit one of the places that I made my start in wrestling. Fans will love this show we have big names like Kevin Owens, Braun Strowman, Roman Reigns, Seth Rollins and so many more. There will be a big women's triple threat matches and we will have matches that will tear the house down for the Pikeville crowd."
While outside of the WWE, Lashley kept working to make it back.
"I've spent my time working to get better since I have been away from the WWE," Lashley said. "I've doing a lot of things to build myself up to be the best performer I can be. I've spent time on the independent wrestling scene learning to have great matches. Before, I was known as the guy who just threw people around. I am confident that I can have good matches against anyone now and have different kinds of matches. I think my work rate has changed a lot and now I'm a better Bobby Lashley. I am better in the ring, on the mic and I made the most of my opportunities during my time away." 
Sunday evening, Lashley picked up a big win over one of the top Superstars in the WWE — Roman Reigns.
Lashley and Reigns will be on the same team with Braun Strowman. They will take on Kevin Owens Jinder Mahal and Elias in a six-man tag team main event.
"Roman and I will be on the same team, but after Sunday, that's over with me," Lashley said. "I'll shake his hand and move on. We are both competitors and fights and we will shake hands and move on after Sunday. I'm sure we'll have more matches against each other in the future."
After Lashley's win Sunday at Extreme Rules, he is in the picture for a shot at the WWE Universal Championship.
"I will do anything to get that title," Lashley said. "Some guys aren't willing to do anything to get the title. I am. That's the difference. I will walk through anyone or knock them out or do what I have to do to get that title.
"I'm on a chase for this title to cement my legacy. I was the ECW champion and United States champion my first time around and while those are great, they aren't the Universal Championship.This is a chase that has been 15 years of hard work to get there.'
Lashley says if Pikeville fans want the WWE to keep coming back to the East Kentucky Expo Center that the fans should keep showing up and packing the house.
"The fans want to keep us coming back, then they need to keep showing up and packing the house," Lashley said. "Pikeville has had some big and rowdy crowds, that's why the WWE keeps coming back. When the fans show up we keep coming back and trying to give them bigger and better shows. Pikeville is known for having some rowdy fans that like to come out and see us tear down the house. As long as we have good crowds, Pikeville can expect to keep having big shows. Pikeville should expect a great show Sunday."
The wrestling business keeps changing according to Lashley.
"It's always going to change and keep growing and evolving," Lashley said. "When I was here before, we had a stacked roster and now that I'm back, we have a stacked roster. It's amazing to see guys who aren't featured on TV a lot go out and put on great shows. The guys on the roster are really good."
With the WWE Network, two weekly shows and unlimited access, the WWE is more fan friendly than ever.
"We are spoiling our fans," Lashley said. "They get access to anything they want. The older fans remember me, but the nine- and 10-year olds don't remember me. Now, they just have to go to an app and they can watch my matches from my first run with the company. Now, they know what I'm about, where I started and where I am now. The fans who don't remember me can go watch me on my journey to become ECW champion or US champ. The network and all the things we offer just helps guys like me and that's priceless to me. It's great that we spoil the fans the way we do, but we are able to travel to places like Pikeville because of our great fans.
"I'm really excited to get to Pikeville and put on a good show. So everyone should come out and enjoy and fun evening and a great show."